I haven't been keeping up this column lately—been distracted by other stuff—so here's a summary of some of the interesting news of the past month or so…
DA BIG SCREEN
DEADPOOL 2.  Yes.  Yes.  And more yes.
I KILL GIANTS.  Has a trailer. Awesome.  The movie arrives March 23.
BLACK WIDOW HAS A MOVIE.  It's called Red Sparrow, and Jennifer Lawrence has replaced Scarlet Johansson.  But seriously…ScaJo's portrayal of Natasha Romanov looks like it is headed for a solo film, several years too late, and it will make her the highest paid Hollywood actress.  She stands to make over $30 million.  The sad thing is, I don't really care about this movie.  It's been way too long, the Captain Marvel movie is already on the way…I'd so much rather see a Kamala Kahn Ms. Marvel movie, or even something with Scarlet Witch.  In fact, if the Marvel/FOX deal goes through, a "No More Mutants" movie would be a terrific way to reboot and merge with the X-franchise.
DMG ENTERTAINMENT BUYS VALIANT.  The company, which has worked on several action/comic book-type movies like Iron Man 3 and Looper, recently bought Valiant, the upstart comic book company that in many cases is proving that superhero stories can still be told in fresh and awesome ways.  With terrific series like Bloodshot, Faith, X-O Manowar, and Quantum and Woody, Valiant is increasingly catching the eyes of astute comic book readers who are bored by the Big Two.  There are several media projects in development, but so far none appear imminent.
DA PRINT
SPIDER-MAN GETS A NEW WRITER.  After a decade, Dan Slott is finally jumping off Amazing Spider-Man.  He's really written the book into the ground, after doing some of the best stories in the history of the title.  Soon after Superior Spider-Man, a defying-all-expectations, brilliant extended story in which Peter Parker's body got possessed by the mind of Dr. Octopus, the book went off the rails.  I have to admit, I stopped reading it for the first time in its 700-issue+ history.  Of course, there's a lot of Marvel books I've been bailing on.  The publisher is going through some creative nadirs right now, and desperately needs to get back on track.  Slott is moving to Iron Man, where he will replace Brian Michael Bendis, who is leaving for DC.
SUPERMAN GETS A NEW WRITER.  Brian Michael Bendis will begin his DC career with a ten page story in Action Comics #1000, followed by a six-issue miniseries titled Man of Steel, after which he will take over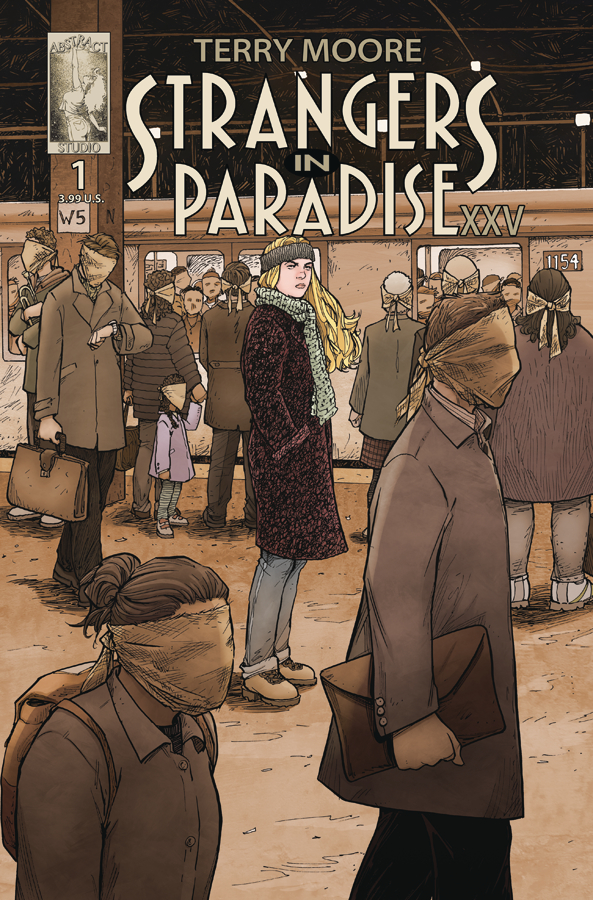 both Superman and Action Comics.  You may recall that in the 1980s, the Superman franchise was seen as flagging and needed some rejuvenation, and DC lured John Byrne away from Marvel to reboot the character in a six-issue Man of Steel miniseries, followed by a run on both Superman and Action Comics.
STRANGERS IN PARADISE XXV.  Terry Moore has returned to the groundbreaking series he started a quarter of a century ago.  I will read anything Moore creates, but this is the one many of us have been waiting for.  In addition, Moore has promised that SiP XXV will show, once and for all, that all of his creator-owned comics exist in a shared universe.  The film adaptation of the original SiP comic is being developed by Moore with Angela Robinson, of Professor Marston and the Wonder Women.
LEE WEEKS ON BATMAN.  I've been raving about Tom King's character-redefining run on Batman for at least a year now, and it's about to get even better as legendary artist Lee Weeks will be coming aboard for an arc about Mr. Freeze.  There is absolutely nothing in that sentence that can go wrong.
INCOGNEGRO.  If you haven't heard of it, Incognegro was a powerful Vertigo comic from the 2000s about a light-skinned reporter who passes for white looking into Southern lynching in the 1930s.  Comic books really hadn't been used to tell a reality based fiction story with that kind of depth and weight much before that, and the book was an important move forward for the medium. Well, former Vertigo editor Karen Berger now has her own imprint, Berger Books, under the Dark Horse Comics company, and they'll be launching a reprint of the original series as well as a new series that will be a prequel, by original creators Mat Johnson and artist Warren Pleece.
DA SMALL SCREEN
HAPPY SEASON TWO.  SyFy has ordered another season of the show that is based on, and greatly expands, Grant Morrison and Darick Robertson's Image Comic about a former cop with an alcohol problem who partners with a flying toy unicorn to save a girl who is kidnapped by an evil Santa.  It stars Christopher Meloni and, be warned, it is a very dark show.
HBO'S WATCHMEN.  The serialization of the comic is being written by Damon Lindelof, and the pilot will be directed by Nicole Kassell, both of whom worked on HBO's fabulous and dark series, The Leftovers.
SNOWPIERCER.  TNT continues to move ahead with the 10 hour drama miniseries based on the movie based on the 1982 French graphic novel Le Transperceneige.  I loved the movie, looking forward to this.  Even if it is on TNT.  The show stars Oscar-winner Jennifer Connelly and Daveed Diggs, and the pilot is directed by Scott "Doctor Strange" Derrickson.
CONAN THE BARBARIAN.  He's coming back, this time to Amazon.
AHNULD THE COWBOY.  In other Amazon new, Governor Schwarzenegger will star in Outrider, about a federal marshal tracking a notorious outlaw.  Funny.  He played Conan in the first movie about the barbarian.