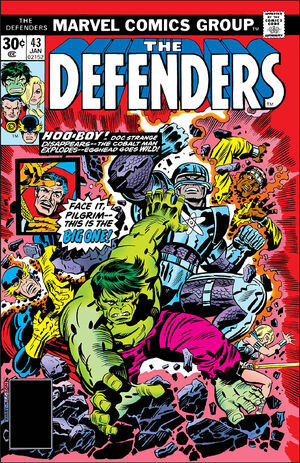 It's a sad day for The Defenders, as their greatest writer signs off. I get the sense that Steve was upset enough about leaving that he threw all his ideas into Defenders Annual #1 and this is just a paycheck issue for him.
Editor Gerry Conway picks up the writing chores.
Not much happens in these issues. Issue #41 is mostly about Dr. Strange helping Nighthawk save his girlfriend Trish from a mystic threat.  In #42 and 43, Egghead, Rhino, Solarr, and Cobalt Man fight the team.  Cage is still with them.  I guess he's a member at this point?  Ditto Red Guardian?
Conway's fine, but he only writes for a few issues.  The shining star in these issues–and the ones that follow–continues to be Klaus Janson's wonderful inking but also the introduction of Keith Giffen.
Giffen had already done a few jobs here and there, but the Defenders in 1976 was his first long run on a comic book.  Back then, he was Kirbyesque and that big, broad, dramatic style was indeed a departure from Steve Gerber's more intimate silliness.    It would be a good fit for David Anthony Kraft, who would start writing with the next issue.
Creators: Gerry Conway and Keith Giffen
Grade: C+. Slightly above average.