MOVIES!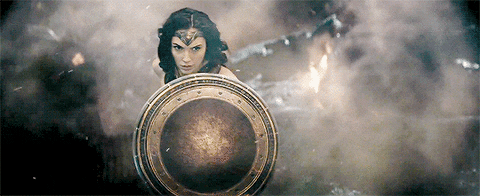 WONDER WOMAN. It opened at $228 million worldwide, the biggest opening ever for a female-directed movie. And it's actually a very, very good movie. It might even be one of the ten best superhero films ever. And, of course, they didn't sign Patty Jenkins up for a sequel. Wow. Even when the WB makes a good DC movie they screw up. And speaking of Wonder Woman, the biopic about the creator of WW, Professor Marston and the Wonder Women, will be arriving in theaters on
October 27, 2017. I've never been a fan of Wonder Woman in comics, but I'm really looking forward to this movie. Dr. Marston is a fascinating guy.
HELLBOY: RISE OF THE BLOOD QUEEN. No, it's not the third film in the series. It's a (sigh) reboot. Why do they need to re-make one of the best comic book movies of all time, instead of just making another installment with a new cast and crew? Not sure. But they're gonna give it an R rating and make it more scary. It will be co-written by Andrew Cosby, cofounder of BOOM! Studios comics, with Hellboy creators Mignola and Golden, and directed by Neil "Game of Thrones" Marshall. Good pedigree. David "Stranger Things" Harbour has the title role. Word is, it will be much darker than the original, with direction from Neil Marshall who did a good job with the horror film "The Descent." Also, it will be rated R. Reasonable optimism is appropriate.
SILVER AND BLACK. The Spider-Man spin-off about Silver Sable and Black Cat will hit theaters in October 2018 ,with a script by Chris Yost, who writes lots of comics but is probably best known as the author of the upcoming Thor: Ragnarok.
VENOM. Coming in the same month, October 2018, we're promised the Venom movie starring Tom Hardy.
FOX GO BOOM! 20th Century Fox Film just bought a "significant minority stake" in BOOM! Studios-and not just for film development. Boom! reps say the deal helps resource future comics projects as well.
CARTOONS!
DEADPOOL. FXX is backing a Deadpool cartoon to be created by Donald and Stephen Glover, and produced by Jeph Loeb.
GORILLAZ. The band who play as cartoons will get a TV series in 2018, helmed by creator Jamie Hewlett-also known as the cocreator of Tank Girl, a comic that got a movie deal.
T.V.!
COMIC BOOK HERO THE TICK GETS A SHOW AND A COMIC. He's getting an Amazon show in August, and a revived comic by Cullen Bunn & Jimmy Z Johnston.
JUDGE DREDD. I wasn't a fan of the Dredd movie from a few years ago (I actually preferred the really stupid one with Sly and Wes from the 1990s), but it was popular enough launch a new show. Seems like a good property for serialized TV-as long as it's not sanitized too much.
WATCHMEN. Lots of interest in the greatest, bestselling graphic novel of all time. There are plans for an R-rated cartoon adaptation, and an ongoing HBO series to be produced by Daniel Lindelof, who just wrapped Leftovers for HBO (great series!). There's already been a movie directed by Zack Snyder, and despite how much I hate his recent DC movies, I thought he did a decent job with the Watchmen film. But it's such rich source material, there's clearly room for new interpretations.
AND OF COURSE COMICS ARE THE BEST MEDIUM FOR COMICS!
MARVEL'S LAST EVENT. Marvel promises that Secret Empire will be the last event for at least a year, so they're moving to an overstuffed issue #6–48 pages for $4.99-and pushing publication back one week. Is anyone liking this event? I'm not. It's pretty ho-hum. When they keep rebooting their entire line, year in and year out, it starts to feel as meaningless as a Trump tweet.
ASIAN MARVEL? A Hong Kong company just bought Stan Lee's POW! Entertainment with a goal to create a new Marvel(ish) intellectual property company in Asia. Because lightning always strikes twice.
RUNAWAYS. It shouldn't be a shock to anybody that Marvel is reviving the series, what with a Hulu series in development. It will be written by Young Adult novelist Rainbow Rowell and illustrated by Kris Anka. Rowell has said she wants to resurrect Gert, who died many years ago, but wants her to still be an overweight girl. Because size matters. Coming in September.
EVEN MUSIC!
COMIC BOOK HERO WONDER WOMAN GETS A MUSIC DEAL. Warner Bros. will revive the original soundtrack to the 1975 TV series' three seasons