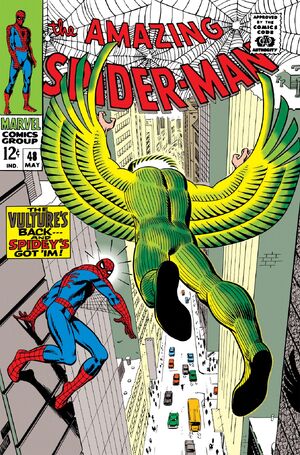 Meet the new Vulture.  Younger than the old Vulture.
Vulture's cellie, Blackie Drago, puts on the green wings and manages to beat the snot out of Spider-Man.  I say the snot because he's got a cold, which makes him weaker.  Kraven gets jealous so he attacks Vulture.  And, of course, Spider-Man wins in the end.
Creators: Stan Lee, John Romita Sr.
Firsts: First time someone other than Adrian Toomes wears the Vuture wings.
Grade: B-.  High-average Marvel story.
For the complete history of the MU, year by year, go here.