Lots of interesting tidbits to pass along to my faithful readers, so I'm breaking it up. Today, it's new about comics. Tomorrow: Other media!
I'm gonna start with what's good. If you're looking to review your pull list and want to check out the best titles coming out each month, here's my
TOP TEN REASONS TO READ COMIC BOOKS IN MARCH 2017 (Besides Saga, because, duh)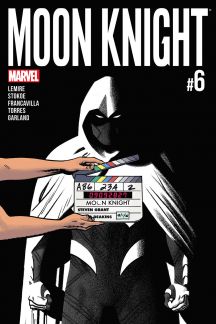 10. Moon Knight (Marvel). Jeff Lemire's work tearing apart and breaking down the character, and then rebuilding him, is the most decompressed reboot in years. Fantastic—but really for fans of the character only. If you don't know much about MK's history, you'll be lost.
9. Paper Girls (Image). I have to say, the book is starting to show a little wear of its high concept, but it's still a solid bet.
8. Batman (DC). After a slow start, the best new writer in the world of comics, Tom King, has found his groove and is writing some of the most thought-provoking Batbooks since Grant Morrison
7. Doom Patrol (Vertigo). Future issues aren't solicited, but DC and writer/former My Chemical Romance frontman Gerard Way insist there will be more coming.
6. Divinity III: Stalinverse (Valiant). You don't have to know anything about the Valiant universe to like this book (although I'm sure it helps). Even the tie-in books have been pretty good!
5. Lazarus (Image). This woman-centered book continues to be one of the best books about power and violence on the market. The only thing bad about it is its sporadic publishing schedule. And I can literally say all the same things about Bitch Planet (Image).
4. Motor Girl (Abstract). More beautifully drawn, wonder weirdness from the great Terry Moore.
3. Brian Michael Bendis' work on Infamous Iron Man and Jessica Jones (Marvel). After spearheading a terrible event last year and generally falling off in his other books, Bendis' work on the Doctor Doom turned hero book has been lots of fun. And his work on Jessica Jones shows the kind of intimacy that made his first run with the character so great.
2. Kingpin (Marvel). The massive, frightening crime lord tries to woo a reporter into writing his memoirs. This book feels about as real as any Marvel book ever has, and it's certainly different from every other big two book on the market.
1. God Country (Image). A dying, mentally infirm old man, estranged from his son and granddaughter, finds a mystical sword that makes him younger and more powerful. It's a reverse-Shazam story that is simultaneously epic and intimate—comparable to some of the best Neil Gaiman work. Seriously. Don't sleep on this one.
Honorable mentions: Bloodshot (Valiant), Unworthy Thor (Marvel), Lady Killer (Dark Horse), The Wild Storm (DC).
Hit "next" for more news!
THE RETURN OF THE CREW. Not a big surprise, since Ta-Nehisi Coates set the stage already in Black Panther's main book, but the old Jim "Priest" Owsley team of all-black, street-level vigilantes will be returning in a new book by Coates and Yona Harvey, with Butch Guice on art. This time around, their membership will be Misty Knight, Storm, Luke Cage, and Manifold, all led by T'Challa himself. The action will take place in New York City. I haven't been as impressed as I expected by the little Black Panther universe Coates has been managing for Marvel, but I loved The Crew so I'll definitely give the revived team a try. Plus, previews say it will focus on lesser-known, esoteric black characters from Marvel's history. And I'm a total nerd.
OLD MAN LOGAN. For two years, Jeff Lemire and Andrea Sorrentino have been quietly putting out one of the best solo Wolverine books of all time. Now they're leaving the book. Which sucks. But the good news is that Ed Brisson, who has proven his writing chops with some creator-owned material at Image, and artist Mike Deodato Jr. will take over. I've said, often, that Sorrentino's OML comic was the most beautiful Marvel book on the market. Deodato has a much different style, but his work can also be magnificent. Color me sad, but hopeful.
AND THIS YEAR, FROM IMAGE COMICS…Image recently announced fifteen new series. Yes, 15. Looks to me like they're trying to compete with the big two in terms of quantity, having crushed the market by winning on quality year in and year out. Let's see if they can do it—typically, with this many titles, the market can get oversaturated. Among the highlights:
Matt Wagner will conclude his work with the character Mage.
Jeff Lemire (anything he writes is buy-on-sight for at least the first several issues) and up-and-coming artist Phil "Green Arrow" Hester will team up for "Family Tree," about a little girl who is metamorphing into a tree. If nothing else, it promises to be unusual.
Joe Casey (yay!) is coming out with New Lieutenants of Metal, with art by the unusual-and-extremely-cool Ulises Farinas, about a really, really violent strike force team. It looks like a military version of Casey's genius-level violent opus, Officer Downe.
Redlands by Jordie Bellaire and Vanesa R. del Rey will tell the tale of a coven of witches that become cops in Florida.
In what promises to be the BEST ART OF THE YEAR, Klaus Janson and Pablo Raimondi will create "Sacred Creatures." It's a supernatural book, but with artists like that, who cares what it's about?
Ales Kot, who was responsible for one of the most interesting Image series of all time (Zero), will be coming out with two books this year: "Generation Gone," with artist André Araújo, about some bankrobbers who get superpowers; and "The New World" with the great Tradd Moore, which appears to be a dystopic Romeo and Juliet story about a criminal who loves a cop.
Justin Jordan will also script two books: "Death of Love," a miniseries about a guy who can see the little cupid angels that make people fall in love (and this being a Justin Jordan book, decides to kill them all), and "The Family Trade," about a family of criminals who live on a floating city.