This year, I'm thinking I'll drop my news posts down to once a month. I'm not sure people read them, anyway, so probably nobody will cry about it. This means I'll be focused more on news that I find really interesting. There's plenty of other sites where you can find the day-to-day stuff about what artists are signing exclusive contracts and how many days it will be until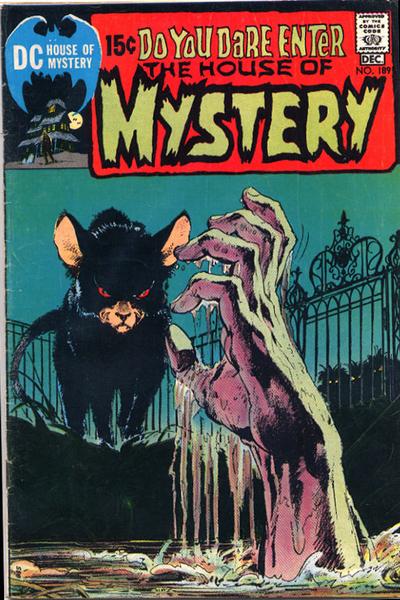 the next Big Two event.
And since it's January, I thought I'd start our first comic book news post of the year with some nostalgia. In addition to the standard repackaging of loose issues into trades, the Big Two are republishing a slew of great classics in the coming months; and here's a few to consider getting for yourself or those you know care about quality comics:
House of Mystery: The Bronze Age Vol. 1. Fifteen issues of the 1968 DC horror(ish) book, hosted by Cain. Sure, the stories were often corny, but look at the artist lineup: Wally Wood, Alex Toth, Sergio Aragonés, Neal Adams, Bernie Wrightson, and Gil Kane. There will also be a collection of Len Wein's House of Secrets comics in which he introduced the world to Swamp Thing, and which also features some incredible artists: Jim Aparo, Bernie Wrightson, and Don Heck, among others.
Golden and Silver Age Gems: DC seems intent on rereleasing a ton of omnibi and smaller trades of very old comics, from back when DC was the preeminent publisher. You'll see collections of Batman, Wonder Woman, Green Lantern, and Superman, as well as the old John Broome/Carmine Infantino Flash comics that established the DC multiverse (from "Flash of Two Worlds" in issue #123); the old Arnold Drake/Bob Haney Doom Patrol, so you can compare it to Gerard Way's terrific reboot of the team.
Midnighter: The Complete Wildstorm Series. The original Wildstorm characters will be "reborn" in 2017, so DC is hoping you'll want to read up on older stories like this one, written by the incredible Garth Ennis. It's the first time all 20 issues of his Midnighter solo book have been collected.
It's a Bird. Steven T. Seagle's wonderful, critically acclaimed Vertigo graphic novel is being reissued—it's about the effect of Superman's legend on a writer who has been asked to do a story on him.
The Marvel Monsterbus will reprint over 800 pages of the old Jack Kirby monster comics, including the first appearances of Groot and Fin Fang Foom. Yeah, Stan Lee wrote 'em (with his brother, Larry), but we all know it was Jack's art that carried these stories.
AND IN OTHER NEWS…
ROBOTECH BY BRIAN WOOD. One of the best writers in comics will be writing a Robotech comic for Titan, which now owns the franchise. I loved this cartoon as a younger man.
RETURN TO SHAOLIN. Geoff Darrow's Shaolin Cowboy will return, under the Dark Horse banner, as a four-issue series.
OLD NICK FURY IS NEW AGAIN. Actually, no. It's his son. The one who looked like Ultimates Nick Fury, but then they got rid of the Ultimates universe and merged them so they never had to have a movie-looking Fury. Whatever. Anyway, he's getting a solo book to bet written by James Robinson and drawn by ACO, one of the best modern artists around. Robinson promises it will be a spy book that would make Nick Fury, Sr. proud. I can't say I'm a fan of much of Robinson's corporate superhero work—I like him more on indies—but this is a book I'll buy for the art. If the story is good, I'll stick with it. But, hey, is there ANYTHING NEW in comics, or is it all revivals and legacies?
MARV RETURNS TO MARVEL. When I was a wee lad, I saw the name "Marv Wolfman" as editor of some of the comics I read, and I assumed it was a pseudonym for some pool of editors who operated under the name Marvel Wolfman. But he's a writer. And a great one. Of course, he cocreated DC's New Teen Titans book—one of the best and most successful DC Comics of the 1980s—but he also had a solid run on Fantastic Four and worked as Marvel's editor in chief for a bit. And he created Daredevil's most famous foe: Bullseye. This year, Marv's returning home: Marv will be writing a Bullseye story for Marvel, drawn by Alec Morgan, to be told in installments as back-up features to Bullseye's solo book arriving February 1.
VIGILANTE: SOUTHLAND CANCELLED. So, as I'm looking over this post, I see that so much of it is old ideas being refreshed. DC Comics recently tried to revive the Marv Wolfman character from the 1980s in a miniseries that has completely
failed to catch fire. I read it. I really wanted to like it. But it was Punisher lite. The unpublished issues will be collected in a trade volume. And DC is accepting returns of the issues via your local comic shop.
THE BUTTON. Flash and Batman will try to find the button. No, not Wonder Woman's clitoris—although that's a book I'd surely buy. The button at issue here is the one Batman found in DC Universe Rebirth #1, which appears to be the smiley face button used by Comedian in Alan Moore's The Watchmen. The two heroes will begin the process of formally introducing the DCU to the Watchmen universe, presumably to make the former better and to keep the rights to the latter from reverting to Alan Moore. It will occur in April in issues #21 and 22 of Flash and Batman's own books
X-O MANOWAR WEDNESDAYS. Although I don't read many of them, I have to say that Valiant is putting out some if the best superhero books right now. Beginning March 22nd, they're starting a relaunch of X-O Manowar, and alongside it they'll be offering Bloodshot Reborn #0 as a jumping-in issue for new readers. Thereafter, once a month, there will be an "X-O MANOWAR WEDNESDAY" with a new issue of the X-O series and another jumping-on issue of another Valiant comic. It's hard to get comic fans to buy into a new universe (especially when comics are so expensive),
and even harder to get them to jump into a series long past it's first issue, so I admire Valiant for trying this. And I am resolved to try to begin reading at least one more Valiant title this year. X-O Manowar might be a good start: It's written by Matt Kindt and illustrated by some of Valiant's best artists, like Lewis LaRosa and Mico Suayan (Bloodshot Reborn), J.G. Jones (DC's Final Crisis), and the great Kaare Andrews (Marvel's Iron Fist books and Image's The One Percent).
JOHN LAYMAN, GARTH ENNIS AND SAM KEITH GO TO AFTERSHOCK! Layman writer of the recently ended, critically acclaimed "Chew" comic (Image) has moved to Aftershock to publish a fantasty/art-heist comic about a woman and a talking bird, titled, "Eleanor and the Egret," to be illustrated by the unique-and-brilliant artist Sam Kieth. Meanwhile, one of the best three living comics writers today, Garth Ennis, will also join the AfterShock family with a series titled, Jimmy's Bastards. (It's actually Ennis' second Aftershock series.)