Note: The contents of this series of posts post will appear, updated, on my main comics page, click [here].
I ran a list of the best comic book adaptations a long time ago, but it's time for an update.  Here's the rules:
• No direct to video, serials, repackages of serials, or TV movies (so no "Blade" from FX, which was a really good show.)
• No movies that just bear the title of an old pulp comic, like Tales From the Crypt.
• Live action only—animated will get another list, another time.
• The comic book must have come first, and it must a be a true comic book or graphic novel—no comic strips.  So no Flash Gordon.
• Higher placement factors include: Overall quality; how well the movie has "aged"; impact on the genre; rewatchability; and when it was released—because a movie like Tim Burton's Batman may seem dated now, but for its time it was amazing, and because it's not fair to compare a movie on a lower budget, like Spawn, with the gazillion dollar Spider-Man movie.
• English movies only, and only movies based on English-language comics.  Because I can't read everything. (So Battle Royale, Tintin, etc. are excluded.)
• Entertainment value can matter a lot more than cinematic brilliance, when it comes to comic book movies.
I'll start with a discussion of the top 50, followed by the "rest" of the comic book movies, over the next few days.
THE TOP FIFTY COMIC BOOK MOVIES OF ALL TIME!
50.  Tank Girl (1995)
So I made a decision to limit myself to the top 50 films, and simply ranked the rest by "tiers" (below).  And when you get down to #50 on the list, you start having to make choices.  Cuts.  Plus, you have to know that (especially nowadays) your #50 is going to drop off the list pretty soon.  So, why Tank Girl instead of Ant-Man or Rocketeer or From Hell or [fill in the blank]?  Because it was an outrageous, wild ride that was grrrrl-focused (way ahead of its time), and even had Ice-T!  This is not only a great comic book movie, it's a great 1990s movie as well.
49.  Teenage Mutant Ninja Turtles (1990)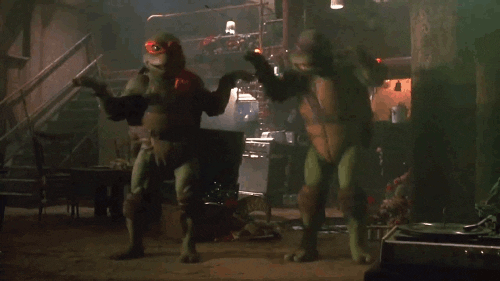 If you want to see realistic-looking turtle people, this isn't for you.  But if you want a ridiculous video that matches perfectly with the tone of the comic book as it was when it was created, this is a totally awesome movie.  Remember, TMNT were created to spoof the "bigger and mindless" superhero books of the late 1980s, and this movie does that to the max.  Plus, it's the best Corey Feldman movie of the 1990s.
CLICK NEXT FOR THE MOVIE YOU'LL PROBABLY DISAGREE WITH!