Yes, actual news about comic books comes out of Comic Con—not just stuff about movies and TV shows, which I reported on yesterday.
COMICS ARE MARVEL COMICS!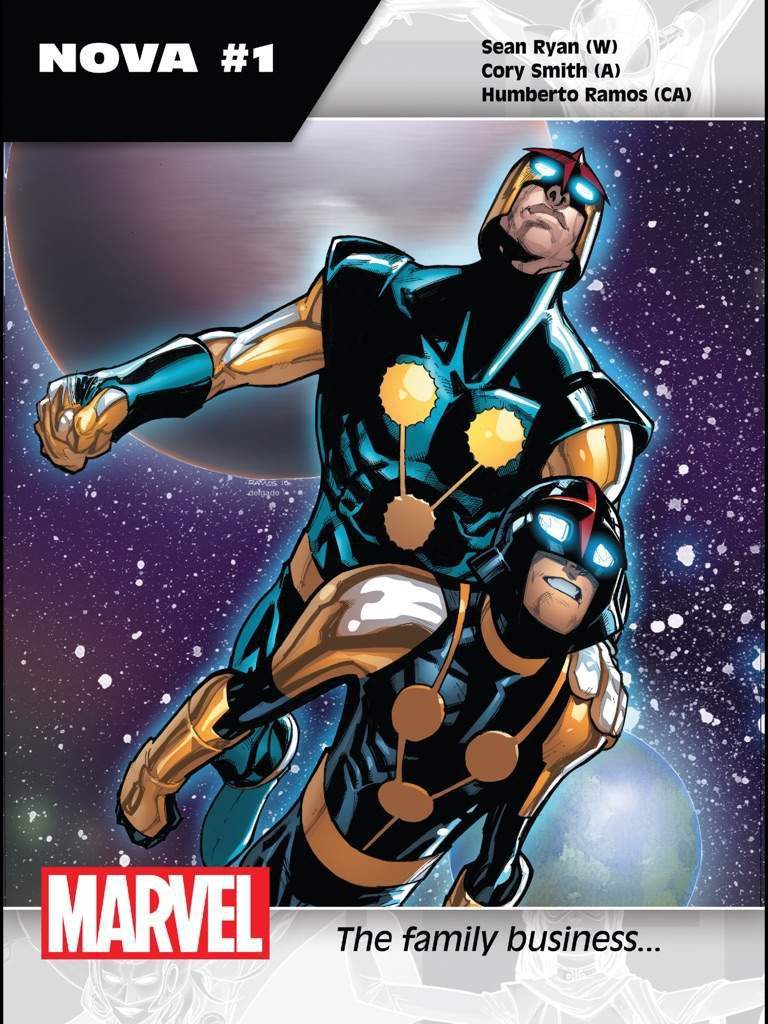 DEADPOOL.  The Merc with a Mouth will be getting several new reprint volumes next year, but not in time for Christmas.  "The Adamantium collection" will be a hardcover memorializing 25 years of Deadpool, and will basically be a "best of" collection.  "Deadpool Beginnings Omnibus" will be a $127 phone book of all his stuff from before his first official series, including his first appearance in New Mutants #98, the Deadpool: Circle Chase miniseries, his X-Force appearances, and other books.  Wanna know if it's worth getting?  Check out my discussion of these early appearances here.
MORE BLACK PANTHER.  A second monthly book, "Black Panther: World of Wakanda," will be cowritten by Roxane Gay and Yona Harvey—perhaps the first Marvel comic written by a black female? 
NOVA.  Richard Rider, the first Nova, will mentor Sam Alexander (current, teen Nova) ni a new series.  Rider was killed by Thanos a long time ago, no idea how they're bringing him back.  This seems to be the way Marvel is moving: Older characters alongside younger versions: Peter Parker and Miles Morales.  Tony Stark and girl Iron Man.  Thor and Jane Thor.  X-Men and younger Scott, Jean, Bobby, etc.  Can't say I love this, as it dilutes the essence of the characters, but I get why it's an important corporate strategy to keep younger readers coming in, so … I'll allow it.
COMICS AREN'T JUST MARVEL COMICS!
MS. AMERICA…NOT!  Joe Casey and Nick Dragotta created Marvel's America Vasquez years ago in the 2011 miniseries "Vengeance," and she quickly became a fan favorite.  Now she's getting a solo series.  Sort of.  The creators will be producing a series for Image Comics called "All America Comix," and the figure featured in the promotional materials looks remarkably similar to the Marvel hero.  Also, she's named America Vasquez.
BATMAN/TEENAGE MUTANT NINJA TURTLES.  DC and IDW will have the Batman from the animated series tie-in to TMNT (i.e., the cartoon turtles) starting in November of this year, following their successful "real Batman" crossover last year.  And in other IDW news…
IDW BRINGS THE PAST BACK.  The publisher plans, with the help of kickstarter funding, to reprint long out-of-print comics.  They are securing rights and reviving books like "Red Range," a Western about a cowboy who fights the KKK and "Dope" by the great Trina Robbins, a comic version of a Sax Rohmer book.
MORE LEMIRE AND BRAITHWAITE BLOODSHOT.  I wish I read more Valiant Comics.  Everytime I pick one up, I love it—but getting to know a whole new universe is too time-intensive and intimidating for me.  But I never miss an issue of Bloodshot, so I'm happy it will continue with a 4-issue mini titled, Bloodshot USA.  In the tradition of the current Flash run and Marvel's Spider-Island event, it will be about everyone on Manhattan (including pets!) being infected with the Bloodshot nanites. 
AND SOME COMICS ARE DC!
 A GARTH ENNIS KIDS BOOK???  Well, not exactly.  Many know that DC is revitalizing the old Hanna-Barberacharacters, originally designed for kids, in a line of comics designed for teens-and-above: Like Scooby Doo, Johnny Quest, and…Dastardly and Muttley by Garth Ennis!  Ennis is best known for over-the-top explicit violence in books like Preacher and Crossed, but he did write an excellent book about dogs (Red Rover Charlie).  Granted, it was about dogs in a post apocalyptic world and it involved rape and cannibalism.  But hey, dogs are dogs.  Amiright?
GREG RUCKA DOESN'T LIKE SEXY, FRANK CHO QUITS WONDER WOMAN.  Frank Cho—known for drawing remarkably alluring and buxom female heroes—had been contracted to draw 24 cover variants for Rucka's new Wonder Woman title, but he's quit after saying that Rucka censored Cho's covers as too cheesecake.  I love Cho's "hot chick" art—he's probably the best at it—but I have to applaud Rucka for putting his foot down as well, and taking a stance that seems more in line with a warrior woman.  Oh, the ambivalence of it all!
THE STATE OF SUPERMAN.  "New Super-Man," Eisner-winner Gene Yang's take on a Chinese hero who has Superman's powers and, basically, Captain America's origin, is the only Superman Rebirth book worth reading.  Yeah, I said it.  Yang discussed his plans for the future, and they include fighting supervillians who are pro-Chinese democracy and bringing in members of The Great Ten, DC's under-used cast of Chinese superheroes made famous by Grant Morrison.  As for the other Superman books, and there are several, they're full of different versions of Superman ("Look!  Up in the Sky! It's a Pre-New 52!  It's a Superman's son!  No, it's Super Luthor!") and they feel like they lack any real center. 
HAWKMAN/ADAM STRANGE.  Marc Andreyko, the writer of the phenomenally good Manhunter comic of over a decade ago, will be writing a team-up series for DC with artist Aaron Lopresti.
MIDNIGHTER AND APOLLO.  Midnighter, by Steve Orlando and ACO (the artist), has easily been one of the best DC Comics of recent memory, so I was sad when I saw it wasn't part of their Rebirth.  But now they've announced a team-up series between the character and his gay lover/Superman analogue Apollo, with Orlando back to write, ACO doing the covers, and interior art by Fernando Blanco.  Hooray!
MILESTONE.  In this very column last year, I repeated DC's intention to bring back Milestone Comics, a DC imprint publisher of books about mostly black characters run largely by black creators like Reggie Hudlin, Dwayne McDuffie, Denys Cowan, and Christopher Priest.  (The best known of the characters were Xombi and Static Shock.)  So far, no progress.  But DC did confirm that they're still moving ahead with it.
COMICS ARE POSTAGE STAMPS
In celebration of being 75 years old, Wonder Woman got four U.S. Postage Stamps, depicting her as she appeared in her first appearances (think H.G. Peter), during comics' silver (1956-1972)  and bronze (1973-1986—a distinct George Perez look) ages, and her more modern look (in a stamp that appears to be a Cliff Chiang image).   From cheesecake to feminist icon.  You go, girl!  (I mean Woman!).
COMICS ARE NOVELS
Or at least Marvel's are, since they announced novelations on Squirrel Girl, Captain Marvel, Black Widow, and Miles Morales, as well as a kids' book titled, "Good Night, Groot."