The Will Eisner Comic Industry Awards are like the Oscars for funnybooks, except in one big way: Tom Hanks and Meryl Streep don't always win.  Big blockbuster
writers like Brian Michael Bendis and the equivalent of major studios like DC and Marvel hardly ever sweep the Eisners.  This is because comic book fans
love the underdog.  And this year's list of nominees may be the most indie ever, with Fantagraphics getting the most nominations of any publisher (Image second, BOOM! third).  Despite rejiggering its entire line via the biggest event in comic book history, Marvel only got a few noms—and they are some weird ones—and DC?  Shut out completely.
I don't republish all the nominees because most of my fans (all three of you) don't read a lot of kids' or web comics, and tend not to know the supergeeky stuff like comic strips and painters.  But I do like to talk about the major
categories, though.  But before I do: Why did the Eisners shut out Marvel's teen-oriented comic, Spidey?  I think it's a great superhero book for the young crowd—it doesn't talk down, tells real stories, has great art…Oh well.
Best Continuing Series 
Bandette, by Paul Tobin and Colleen Coover (Monkeybrain)
Giant Days, by John Allison, Lissa Treiman, and Max Serin (BOOM! Studios/BOOM! Box)
Invincible, by Robert Kirkman, Ryan Ottley, and Cliff Rathburn (Image/Skybound)
Silver Surfer, by Dan Slott and Michael Allred (Marvel)
Southern Bastards, by Jason Aaron and Jason Latour (Image)
Wow.  I'm not surprised at Bandette, because it's a great series, but Invincible and Southern Bastards are two series that are still good, but not nearly as good as they used to be.  And Silver Surfer?  While I'm a huge fan of the creative team, this book is not the best work either of them has done.  It's not even the best work they did this year.  My hope, and prediction, is that Tobin and Coover get it.  It would be nice to award Monkeybrain as publisher, because they've taken a lot of risks and helped developed some very interesting, high-quality comics.  (Question: How does Bandette get
nominated here, but also nominated as a Web comic?  Seems like it shouldn't get two noms just because it's published on two platforms.)
Best Limited Series 
Chrononauts, by Mark Millar and Sean Murphy (Image)
The Fade Out, by Ed Brubaker and Sean Phillips (Image)
Lady Killer, by Joëlle Jones and Jamie S. Rich (Dark Horse)
Minimum Wage: So Many Bad Decisions, by Bob Fingerman (Image)
The Spire, by Simon Spurrier and Jeff Stokely (BOOM! Studios)
Most are good nominations, but Chrononauts?  I tried to like it, but halfway through issue #2 I decided that no matter how much I like Sean Murphy's art, I couldn't hang with this one.  However, I adore both Fade Out and Lady Killer.  My prediction is LK gets it, and probably should because Ed Brubaker
and Sean Phillips win all the time, but I would love it if a period piece like The Fade Out could get a sales boost as a result of being on this list.  Two great comics.
Best New Series 
Bitch Planet, by Kelly Sue DeConnick and Valentine De Landro (Image)
Harrow County, by Cullen Bunn and Tyler Crook (Dark Horse)
Kaijumax, by Zander Cannon (Oni)
Monstress, by Marjorie Liu and Sana Takeda (Image)
Paper Girls, by Brian K. Vaughan and Cliff Chiang (Image)
The Unbeatable Squirrel Girl, by Ryan North and Erica Henderson (Marvel)
I thought Bitch Planet was new last year?  And Harrow County definitely was.  I think Paper Girls should win because it's actually new, but of the six nominees Bitch Planet is by far the best.  All are good comics, though.  All of them.
Best Reality-Based Work
The Arab of the Future: A Childhood in the Middle East, 1978–1984, by Riad Sattouf (Metropolitan Books)
Displacement: A Travelogue, by Lucy Knisley (Fantagraphics)
Hip Hop Family Tree, Book 3: 1983–1984, by Ed Piskor (Fantagraphics)
Invisible Ink: My Mother's Secret Love Affair with a Famous Cartoonist, by Bill Griffith (Fantagraphics)
March: Book Two, by John Lewis, Andrew Aydin, and Nate Powell (Top Shelf/IDW)
The Story of My Tits, by Jennifer Hayden (Top Shelf/IDW)
I haven't read all the nominees, and I don't usually write about this category, but I wanted to give a few shout outs: The March comics are great, Hip Hop Family Tree is something every rap fan should read, and The Story of My Tits was a wonderful read.  Seriously.
Best Writer
Jason Aaron, Southern Bastards (Image), Men of Wrath (Marvel
Icon), Doctor Strange, Star Wars, Thor (Marvel)
John Allison, Giant Days (BOOM! Studios)
Ed Brubaker, The Fade Out, Velvet, Criminal Special Edition (Image)
Marjorie Liu, Monstress (Image)
Willow Wilson, Ms. Marvel (Marvel)
This is totally Ed Brubaker's award.  Three great books in a year.  Ms. Marvel had a substantial dip in quality as it moved her into the mainstream universe and started making her more of a cookie-cutter character (parents don't understand, one friend is a confidant, struggling to keep up in school while being a
superhero—we've seen all that before), and look at Jason Aaron's list.  None of that comes close to his best stuff, like Scalped, Wolverine, Punisher MAX, The Other Side, and Ghost Rider.  And why did they leave out his work on The Goddamned?  Did they hate the book, or overlook it?
Best Writer/Artist

Bill Griffith, Invisible Ink: My Mother's Secret Love Affair with a Famous Cartoonist (Fantagraphics)
Nathan Hale, Nathan Hale's Hazardous Tales: The Underground Abductor (Abrams)
Sydney Padua, The Thrilling Adventures of Lovelace and Babbage (Pantheon)
Ed Piskor, Hip-Hop Family Tree, vol. 3 (Fantagraphics)
Noah Van Sciver, Fante Bukowski, Saint Cole (Fantagraphics)
Don't know a lot of these, but I'd love to see Griffith's autobio get a nod.  He's been in the business forever.

Best Penciller/Inker or Penciller/Inker Team
Michael Allred, Silver Surfer (Marvel); Art Ops (Vertigo/DC)
Cliff Chiang, Paper Girls (Image)
Erica Henderson, Jughead (Archie), Unbeatable Squirrel Girl (Marvel)
Joëlle Jones, Lady Killer (Dark Horse), Brides of Helheim (Oni)
Nate Powell, March, Book Two (Top Shelf/IDW)
I love the art in Paper Girls, but Lady Killer was so damn good.  I'm hoping (and predicting) she wins.
Best Coloring
Laura Allred, Lady Killer (Dark Horse); Silver Surfer (Marvel); Art OPS (Vertigo/DC)
Jordie Bellaire, The Autumnlands, Injection, Plutona,
Pretty Deadly, The Surface, They're Not Like Us,  Zero (Image); The X-Files (IDW); The Massive (Dark Horse); Magneto, Vision (Marvel)
Elizabeth Breitwiser, The Fade Out, Criminal Magazine, Outcast, Velvet (Image)
John Rauch, The Beauty (Image); Batman: Arkham Knight, Earth 2: Society (DC); Runaways (Marvel)
Dave Stewart, Abe Sapien, BPRD Hell on Earth, Fight Club 2, Frankenstein Underground, Hellboy in Hell, Hellboy and the BPRD, (Dark Horse); Sandman: Overture, Twilight Children (Vertigo/DC), Captain America: White (Marvel), Space Dumplins (Scholastic Graphix)
How can you pick between these four?  All are extraordinary.  Bellaire is probably the hottest right now, but the color work on Captain America: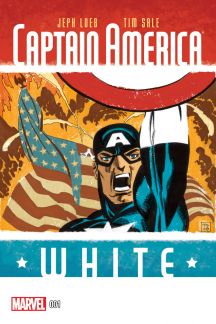 White and The Fade Out had so much to do with the quality of those books.  And Laura Allred makes everything better.  I predict a win for Bellaire.
See you in a few months when the winners are announced!