2. Daredevil #183-184 (1983): Child's Play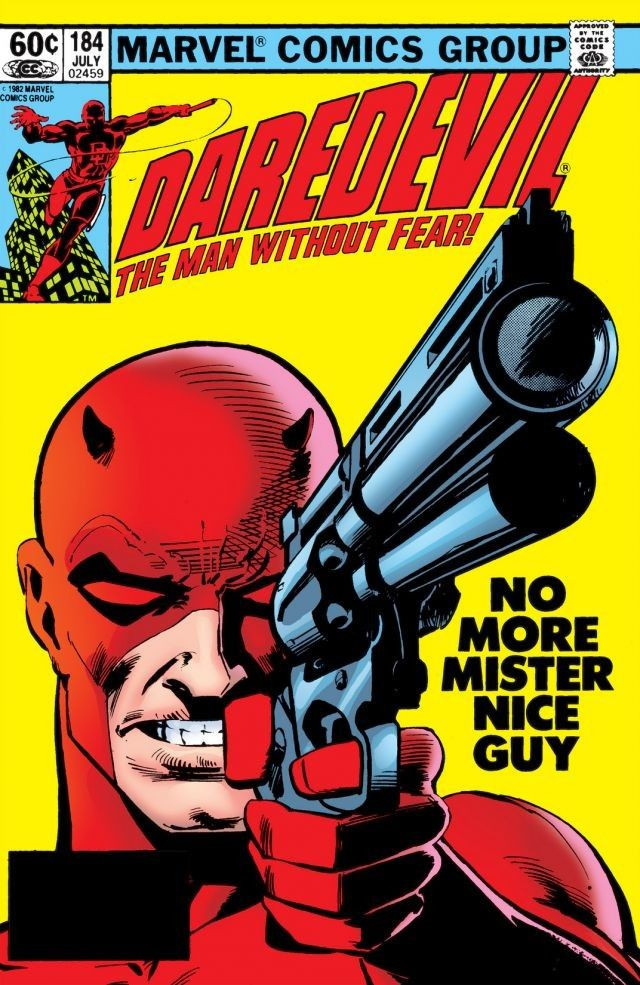 Frank Miller is best known as the genius who reinvented Batman and, along with Alan Moore, changed the comic book industry from mass-produced and generally forgettable capes punching capes to a darker, serious, and more adult-oriented art form. He's second-best known as the guy who transformed Daredevil from a mediocre, underselling book about a lawyer who fought crime into the most talked about book of the late 1970s/early 1990s. But we should also remember what he did for Punisher in just two issues.
In a story about child abuse, drugs in schools, and the real meaning of justice, Punisher and Daredevil compete to catch an adult who preys on children by selling them dope. It's also one of the two times Daredevil uses a gun, and served as the basis for much of the Netflix Daredevil series. These are two of the most important comics ever.  And one of the best covers of all time.
See also Punisher vs. Daredevil #1-6 (2001). DD vs. Punisher could almost be its own trope, and this is another great fight. A mini-series by David Lapham that is basically exactly what it sounds like: A series of fights between the two characters.
1. Punisher MAX: Born #1-4 (2001)
An Ennis MAX miniseries, with his "The Boys" artist (Darick Robertson). I'm not a fan of war comics, but this story is tremendous. It tells of Frank Castle's final mission in Vietnam, and recasts his origin; we learn that Punisher's wife and kids being killed actually didn't do all that much to change him. Even back in Vietnam he was the way to becoming a homicidal maniac willing to kill anyone whose ideas of justice were different from his won.
It should be noted that Ennis wasn't the first one to put Frank in a realistic wartime setting. Back in 1992, Vietnam veteran Doug Murray's series "The 'Nam" brought Castle in for frequent cameos, which was a little strange since The 'Nam was a fact-based semi-
autobiographical series and The Punisher . . . isn't.
In the end, he returns from war to be with his family. We, as readers, know his wife and kids will be dead soon—and the violent animal we saw in Born will emerge stateside as The Punisher—but now we also understand how his family's murders were a trigger, not a cause. All major comic book characters have an origin that can be traced to a single event: A spider-bite, parents being shot, an exploding planet, etc. Ennis' origin story is gradual, more realistic, and far more interesting and real.
It's hard to pick the best Garth Ennis Punisher story, but I think it's hard to argue that this one is in the top three.
See also: Punisher: MAX by Jason Aaron and Steve Dillon (2010): I didn't put this on the "main" top 10 because the most interesting parts of this comic are about Bullseye and Kingpin, but Aaron and Dillon's run on Punisher MAX delved deep into Punisher's origin, offering a brutal and violent alternative view of the story–well worth your time to read.