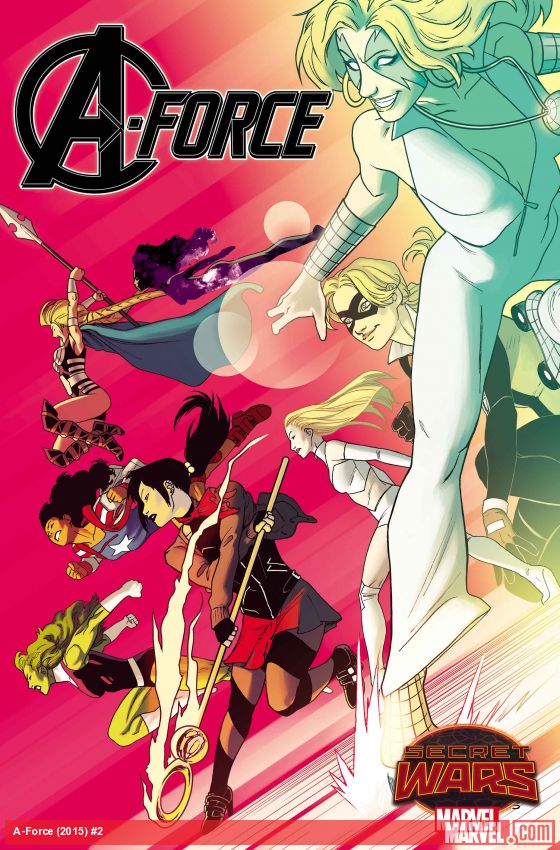 It's not clear how Secret Wars will end, but at least now we know what Marvel will look like in 2016.  In addition to another Jim Starlin Thanos miniseries (with art by Alan Davis, yay!), Marvel's announced nearly all 50 of its monthly books.  Here's the straight poop, some of which had already been published months ago, in alphabetical order of character's name…
 A-FORCE.  Anything written by G. Willow "Ms. Marvel" Wilson is a must-buy for me, and this book spins out of the Secret Wars miniseries of the same name—which was one of the better tie-ins.  The team is led by She Hulk and has a brand new hero
in it.  Shulk's books have never sold very well, new characters are notoriously difficult to launch, and female-focused books are always a tough sell–so this book has a steep hill to climb.  But I'm rooting for it.  The art will be by the great Jorge Molina.  Expectations: High, must buy.
ANGELA: QUEEN OF HEL.  Marguerite Bennett, Kim Jacinto and Stephanie Hans.  Nothing about this interests me in the least.  Marvel has yet to do something with Neil
Gaiman's Angela character that makes me
want to read. 
ASTONISHING ANT-MAN.  I'm thrilled that Nick Spencer (art by Ramon Rosanas) is back writing this character again—his Ant-Man book of early 2015 suffered premature death due to Secret Wars, and it was just getting off the ground.  Already on my pull list.
ALL-NEW ALL-DIFFERENT AVENGERS.  Mark Waid.  Adam Kubert.  Black Captain America, Vision, Miles Morales, Ms. Marvel.  I'm so there.
NEW AVENGERS.  Al Ewing.  Gerardo Sandoval.  A mish-mash of Young Avengers and others, reimagined as AIM: Avengers Idea Mechanics.  I am so NOT there.
UNCANNY AVENGERS by Gerry Duggan and Ryan Stegman.  Sorry Ryan; I love your art, but you lost me at Duggan.
BLACK PANTHER.  For the first time in a long time, T'Challa gets a solo book to be written by activist and journalist Ta-Nehisi Coates(!) and artist Brian Stelfreeze.  The first story will be a year-long saga about terrorism in Wakanda, and promises to be politically
charged.  This is another one I'll definitely be reading.
CAPTAIN MARVEL by Tara Butters, Michele Fazekas, and Kris Anka.  Kelley Sue DeConnick is off the title, and so am I.  I never cared for the character, I just liked DeConnick's writing.
CARNAGE by Gerry Conway and Mike Perkins.  No thanks, I just have never found this character interesting.
CONTEST OF CHAMPIONS.  Despite Al Ewing doing the script, it would take a lot to keep me away from a fight book with Gamora, Maestro (Future Imperfect
Hulk), and a slew of Marvel heroes.  And I love artist Paco Medina.  I'll be buying this.
DAREDEVIL by Charles Soule and Ron Garney.  I've read every issue of DD ever published, and I'm sure as hell not gonna stop when the writer of the last, absolutely fabulous She Hulk book takes over.  Even if they're giving him a black outfit, making him a prosecuting attorney and giving him a sidekick.  I trust Soule. 
DEADPOOL.  More awful Gerry Duggan.  I wish they'd get a writer I like for this comic.
DOCTOR STRANGE.  You almost got me by having Jason Aaron write this, but then you put Chris Bachalo on the art—a poor man's Skottie Young.  Pass.
DRAX.  Pro-fighter CM Punk turns Drax into a pro fighter.  Bleh.
GUARDIANS OF THE GALAXY.  I've liked (not loved) most of Brian Michael Bendis' run on GotG, and Valerio Schiti is a perfectly fine artist, but it's a new team: Kitty Pride is now Star-Lord, Thing's on board, and Rocket Raccoon is the leader.  I can't imagine this will be good, but I'm
willing to read the trade if I hear positive things.
ALL-NEW HAWKEYE by Jeff Lemire and Ramon Perez.  When Lemire took the title over from Matt Fraction, I was underwhelmed.  He writes great indie books, but his Marvel and DC output is spotty.  Pass.
THE TOTALLY AWESOME HULK.  The "World War Hulk/Incredible Hercules" team of Greg Pak and Frank Cho return, but this time boy genius Amadeus Cho is the mean green one.  I can't say I'm all that interested in this one, despite it having a
great creative team.
HOWARD THE DUCK.  Chip Zdarsky and Joe Quinones pick up where they left off when Secret Wars interrupted them.  I didn't hate this book, but I didn't like it enough to buy it.
HOWLING COMMANDOS OF S.H.I.E.L.D.  I like the idea, even if a similar one completely tanked during the Secret Wars.  I don't know the work of creators Frank Barbiere and Brent Schoonover that well, though.  I'll try in trade unless I hear bad worth of mouth.
ILLUMINATI by Josh Williamson and Shawn Crystal.  Williamson is best when he's writing dark, so I'll check out his take on a gang of outlaws led by Red Hood.
UNCANNY INHUMANS by Charles Soule and Steve McNiven.  I know they're the new X-Men.  I know they're "important" to canon.  But ever since Marvel started pushing this team, I haven't
INVINCIBLE IRON MAN by Brian Michael Bendis and David Marquez.  Iron Man books are really hit or miss, but Bendis is usually a reliable writer and Marquez's designs are pretty nifty (even if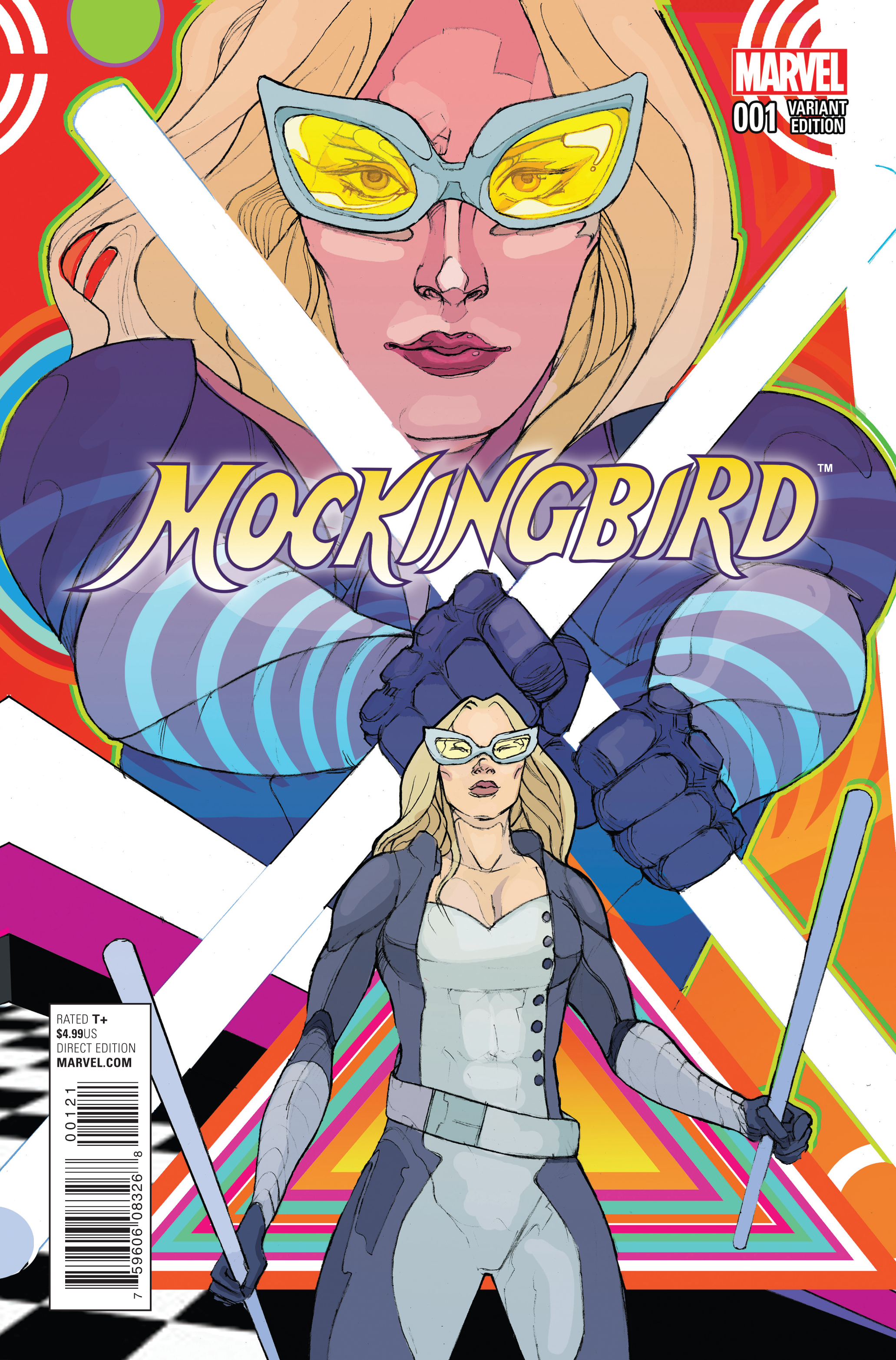 Iron Man's helmet looks an awful lot like Dr. Fate).  Expectations: Moderate, based on the character's history.  I'll check out the first few issues, for sure.
KARNAK by Warren Ellis and Gerardo Zaffino.  My favorite writer writing about one of my all-time favorite Marvel characters.  Count me in.
MOCKINGBIRD.  Following the "if they're in the MCU, they get a solo book" model, Bobbi Morse will get her own book in 2016 to be written by novelist Chelsea Cain.  It looks like she'll be a wisecracking secret agent, much like her identity on TV's
Agents of S.H.I.E.L.D.—which, rumor has it, will be spinning her off into a solo show as well.  The concept isn't grabbing me, and the character hasn't grabbed me since she divorced Hawkeye and left West Coast Avengers, decades ago.  Pass.
MOON KNIGHT.  One of my favorite
characters will return under the creative team of Jeff Lemire and Greg Smallwood.  Greg's work has been solid, but Lemire is new to Marc Spector.  I have to say: I loved Sweet Tooth and really like Descender, but Lemire's work for Marvel and DC has not been his best.  Please don't fuck this up.
MS. MARVEL.  The team of G. Willow Wilson, Takeshi Miyazawa, and Adrian Alphona returns.  So will I.  Buy on sight.
NOVA by Sean Ryan and Cory Smith.  If this
were about the African American family in the SW tie-in book "Infinity Gauntlet," I'd probably be right there.  But it isn't, so I'm not.
OLD MAN LOGAN.  Andrea Sorrentino is a magical artist, so I'll check this out but it's written by Jeff Lemire so my hopes are not high. 
RED WOLF.  I can't say I care about the character, but the team of Nathan Edmondson and Dalibor Talajic—both of whom did extraordinary work with Punisher—makes this a buy-on-sight for
me.  We'll see if they can keep my interest.
SCARLET WITCH.  I was interested, until I saw it was written by James Robinson.  No artist is announced yet, but I can't imagine it will make a difference in my decision not to buy this.
AGENTS OF S.H.I.E.L.D. by Marc Guggenheim and Mike Norton.  Don't care.
SILK by Robbie Thompson and Stacey Lee.  No thank you.
SILVER SURFER.  Dan Slott and Mike Allred will return with a new #1 for the character.  Their run so far has been
worth reading, but hasn't been anything tremendous.  I'll read it in trade, if at all, not because I expect it to be bad but because, hey, I'm a busy guy.
SPIDER-GWEN by Jason Latour and Robbi Rodriguez.  Nothing personal, but no.
ALL-NEW, ALL-DIFFERENT AMAZING SPIDER-MAN.  Dan Slott continues his nearly decade-long run on Peter Parker, and as long as he's writing, I'm in.  Art by Giuseppe Camuncoli is just gravy.  Not sure how much I like the idea of completely changing the legend
around: Peter is basically Tony Stark, Jr., as CEO of a global corporation and adventures around the world, but if Slott can make the Doc Ock bodyswitch work, he can do anything.  The team is the same, all that's changed is the adjectives in the title.  Buy on sight.
SPIDER-MAN by Brian Michael Bendis and Sara Pichelli.  The continuing adventures of Miles Morales. Bendis has been writing Ultimate Spider-Man since the Ultimate universe first launched, and he has literally
NEVER let me down.  Buy on sight.
SPIDER-MAN 2099 by Peter David and Will Sliney.  I love you, Peter, but I've never liked this book.  Pass.  But look at all these Spider-Man books!!  It's almost like there's a new Marvel movie about him!  Oh, wait.  There is.
SPIDER-WOMAN by Dennis Hopeless and Javier Rodriguez.  She's a mom!  She's a superhero!  This sounds a little like DC's old Manhunter series, which I liked a lot.  This will be a buy-in-trade if the reviews are good.
SQUADRON SUPREME.  I enjoyed the Secret Wars tie-in, but it looks like the concept is all different now.  James Robinson and Leonard Kirk will helm a book about Hyperion, Thundra, Nighthawk, Dr. Spectrum, etc.  It's billed as a book about a bunch of characters whose worlds were all destroyed.  I always liked the idea of a Marvel version of DC's Justice League, which this isn't.  I find myself…Not interested. 
STAR-LORD by Sam Humphries and Javier Garron.  Didn't like his first Star-Lord book, won't be buying this one.
THE MIGHTY THOR by Jason Aaron and Russell Dauterman.  It takes a
lot to get me to read Thor, and giving him a vagina just isn't enough.  Pass.
ULTIMATES by Al Ewing and Kenneth Rocafort.  I thought we were done with this team?  Oh, we are.  This is basically black Avengers 2.0: Black Panther, Monica Rambeau, Blue Marvel, etc., with the token white Captain Marvel.  I lost interest the last time Ewing tried this, so I'll save my money.
VENOM: SPACEKNIGHT by Robbie Thompson and Ariel Olivetti.  Even Olivetti's art can't get me in the door here.  Not interested in the least.
VISION by Tom King and Gabriel H. Walta.  I'm intrigued.  I'm willing to give it a chance.
WEB WARRIORS by Mike Costa and David Baldeon.  If you don't have spider spin off fatigue yet, read this and you will.  No thanks.
WEIRDWORLD by Sam Humphries and Mike Del Mundo.  Probably the best of the Secret Wars spin-offs gets its own book, but sadly with a new writer.  I'm not a fan of Humphries, but Mike Del Mundo remains on art chores—and his work has been excellent: Just the right kind of weird and different.  I'm willing to give it a try, but if the first issue doesn't grab me, I'm out.
ALL-NEW WOLVERINE by Tom Taylor and David Lopez.  What makes it new is that she's a girl.  Meh.
ALL-NEW X-MEN by Dennis Hopeless and Mark Bagley.  It's the original X-Men (brought into the present by Bendis prior to Secret Wars) plus Laura-as-Wolverine.  I don't see the point in this.  Pass.
EXTRAORDINARY X-MEN.  As noted above, Jeff Lemire has never written a Marvel book I've liked, and although Humberto Ramos isn't a terrible artist, he's not a must-buy guy for me.  Even Magik, Old Man Logan, and Nightcrawler can't sell this book to me.  Pass.
UNCANNY X-MEN by Cullen Bunn and Greg Land.  Bunn has written exactly one comic that kept my interest.  Looks like I'm passing on all the X-titles this time around.  Oh, wait.  Maybe I spoke too soon…
X-MEN '92.  The surprisingly awesome digital comic will return, with Chris Sims and Chad Bowers returning as writers, alongside Alti Firmansyah on art.  Just revealing this fact shows that Secret Wars' "time and universe melding" was not an event, it was a new normal.  I expect to check this out, but I'm concerned the joke will wear thin pretty fast.  Maybe I'll just buy in trade.
So, any of your favorite characters missing from the lineup?