If you're a cynic who just hates Marvel, don't read this.  But if you're like me and you enjoy a good caped bad-guy bashing, then be excited.  Be very excited.  Because the new Marvel lineup looks good enough to eat your entire paycheck.  Unlike DC's "New 52" reboot of five years ago, Marvel is launching with 45 titles.  But the ratio of good to worthless is much better.  And there's more beyond the 45 as well.
Here's what I'm most, and least, excited about.  Now keep in mind that this is being written before the books come out, so it's sight-unseen.
UGH
Agents of SHIELD, Carnage (there's never been a Carnage book worth reading), Deadpool (I can't stand Gerry Duggan), Howard The Duck (it hasn't been good so far, slapping a new #1 on it surely won't help), Nova, Silk, Spider-Man 2099, Uncanny Avengers (more Duggan), Venom: Spaceknight, Web Warriors (enough Spideys already!).
COMICS FOR KIDS AGAIN! 
Spidey.  At San Diego Comic Con, Marvel
announced "Spidey," an all-ages monthly about Spider-Man in high school, that supposedly will take place "in continuity."  I don't see how that's possible if it's Peter Parker, unless there's going to be an extra Peter Parker after Secret Wars (which is certainly possible), but I'm glad to see an all-ages books.  If we don't get kids reading comics, the art form is doomed. 
THESE ARE PROBABLY GOING TO BE FINE, BUT THEY'RE JUST NOT FOR ME
All-New X-Men (the Lee/Kirby X-team that Bendis brought into the present day during his run), Angela: Asgard's Assassin, Captain Marvel (no Kelley Sue writing it, no me reading it), Drax, Extraordinary X-Men (my life was complete without a team featuring Marvel Girl, swashbuckling Nightcrawler, Storm, Old Man Logan, Iceman, Colossus, and Magik, but I expect X-fans will dig it), Hawkeye, Spider-Gwen (I know she's got her fans, but so far I haven't really dug this character), Squirrel Girl, Star-Lord, Thor (I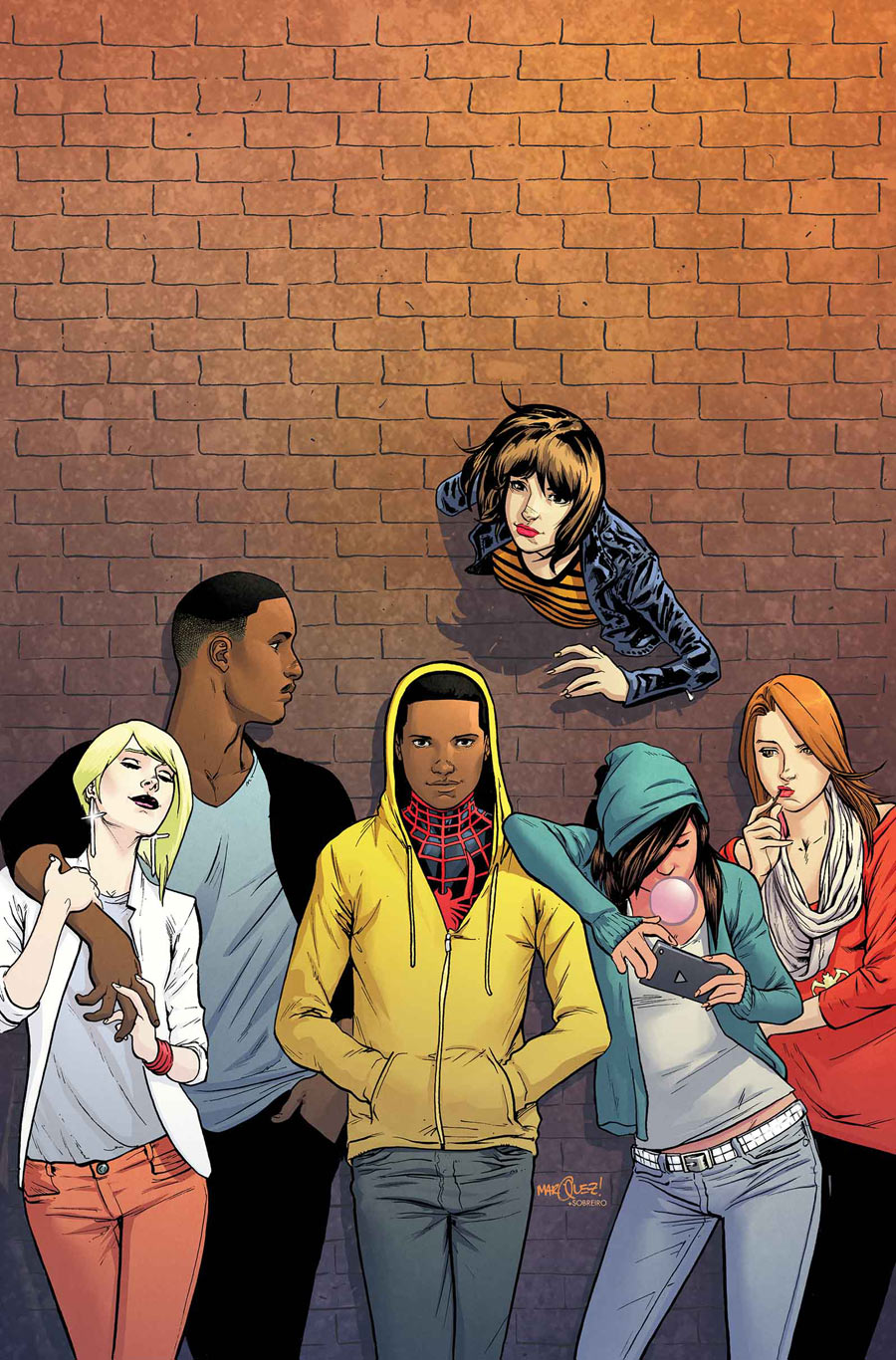 just don't like the character that much, but I admit Jason Aaron writes him/her well), Ultimates (in name only, it's a book about Black Panther, black Captain Marvel, white Captain Marvel, and America Chavez—but putting all the minorities in one book doesn't mean it'll be good), Uncanny Inhumans, Wolverine (it's a chick!).
I'M VERY CURIOUS, BUT NOT QUITE READY TO COMMIT
Blade by Tim Seeley and Logan Faerber.  Fittingly, he returns in October. 
It's unclear if this will be 616 Blade, but Seeley (Revival, Hack/Slash) will pair him with his daughter and won't be limited to fighting monsters.  Everyone has questions.  Will this be an actual good Blade book, or a meh one like most that precede it?  Will he team-up with Dum Dum Dugan's new monster crew (see below)?  The real question, though, is whether this means Marvel is considering a new Blade movie—which Wesley Snipes hinted at during Comic Con.
Contest of Champions by Al Ewing and Paco Medina.  I'm not impressed by the
creative team, but Maestro (Hulk from Future Perfect) running a battle of the heroes?  I'm curious enough to peek.
Doctor Strange by Jason Aaron and Chris Bachalo.   Aaron is generally a guy worth reading, but Bachalo's cartoony style puts this one on the fence for me.
Guardians Of The Galaxy by Brian Michael Bendis and Valerio Schiti.  Right before Secret Wars, this book was getting pretty tired.  But I'm willing to check it out and see if there's new life in it.  It's also
a new line-up, with a female Star-Lord (I'm assuming it's 616 Kitty Pryde).
New Avengers by Al Ewing and Gerardo Sandoval.  On the one hand, why are there so many Avengers teams with characters nobody's ever heard of?  I mean, I thought Avengers were supposed to be the biggest and brightest?  On the other hand, this looks like a new Young Avengers/Runaways book: Hulkling, Wiccan, Hawkeye (girl version), Squirrel Girl,
Sunspot and Songbird on a new version of A.I.M. (Avengers Idea Mechanics).  The real question: Why wasn't that the title?
Scarlet Witch by James Robinson.  He's a good writer, but she's never, ever had a good solo story.  And with all of history being rewritten, will her tortuous backstory remain?  Will Magneto be her daddy again?  Okay, you got me, Marvel.  I'm curious.
Spider-Woman by Dennis Hopeless
and Javier Rodriguez.  I like the creative team, I like the character, and I like the promotional concept (she's a mom now!). 
The Totally Awesome Hulk by Greg Pak and Frank Cho.  Yet another person becomes Hulk.  This one is dancing very near the "won't bother to read" edge, but it's still closer to a look than a pass.
Uncanny X-Men by Cullenn Bunn and Greg Land.  Bunn is not one of my favorite writers, but this team has all the mutants I want to read about: Phantomex, Mystique, Magneto, Sabertooth, and Psylocke.  In fact, it's probably just another version of X-Force.  I'll try it out, but I'm afraid it will be about as interesting as Bunn's pre-Secret Wars Magneto solo book.
ALREADY ON MY PULL LIST
Astonishing Ant-Man by Nick Spencer and Ramon Rosanas.  The pre-SW team returns.  They did really, really good work before, and I'm sure they will again.
Infinity Entity and Infinity Finale.  Jim Starlin will write his last Thanos stories, first in a 4-issue miniseries with art by the amazing Alan Davis and then in a final graphic novel with artist Ron Lim.
Howling Commandos of SHIELD by Frank Barbiere and Brent Schoonover.  I love the Legion of the Unliving, so my
hopes are high for Dum-Dum Dugan's team of monsters and weirdos including Man-Thing, Hit Monkey, and Werewolf by Night.
Sam Wilson, Captain America by Nick Spencer and Daniel Acuna.  I haven't liked any Falcon Cap books so far, but the creative team on this one has earned my respect.
Spider-Man by Brian Michael Bendis and Sara Pichelli.  Miles Morales in a shared universe.  Bendis has pretty much always written good Ultimate Spidey books, no reason to think he won't continue doing so.
Spider-Man/Deadpool by Joe Kelly and Ed McGuinness.  The nine issues of Deadpool this team did way back in 1997 are remembered by many as the best Wade Wilson comics of all time, so having them return for a miniseries is definitely a treat.  Even if it means yet another Spider-Book (what are we at now, nine a month?). 
Vision by Tom King and Gabriel Walta.  King is certainly a very good writer, but I can't help wondering why we didn't get a Vision and Scarlet Witch book.  That would have been a must-buy for me.
THE TOP TEN ALL-NEW, ALL-DIFFERENT MARVEL BOOKS
These are the ones I'm most looking forward to…
10.  Daredevil by Charles Soule and Ron Garney.  The bad news: No Mark Waid.  The good news: Soule did a great job with She-Hulk, Marvel's other lawyer hero.  The bad news: DD's partner will be Gambit.  I've read every issue of Daredevil ever written, and I don't expect to stop now, but I'm nervous.
9.  Old Man Logan by Jeff Lemire and Andrea Sorrentino.  Most of Lemire's big two work has left me cold, but Sorrentino is killing the Secret Wars version of this book.  And I know Lemire is capable of greatness, Sweet Tooth proved that.  So please let it shine through here.
8.  Squadron Supreme by James Robinson and Leonard Kirk.  The Secret Wars tie-in book is terrific, so I'm hyped for this one.
7.  The Amazing Spider-Man by Dan Slott and Giuseppe Camuncoli.  Peter Parker will separate from New York City (presumably leaving it under Miles' protection), and get his Spidey-Mobile back.  After the whole switching-bodies-with-Doc-Ock thing worked out so well, I'll follow Slott anywhere.  Plus, not having a monthly Spider-Man book during the Secret
Wars has made me realize how much I love this book.
6.  Invincible Iron Man by Brian Michael Bendis and David Marquez.  One thing Bendis does very well is launch new takes on old characters, so I'm on this one without a doubt.
5.  Illuminati by Josh Williamson and
Shawn Crystal.  Williamson is one of those writers who is either groundbreakingly good or mind-numbingly dull.  There's no in-between.  I'm hoping for the former (and in truth, the good Williamson shows up more often than the bad one), because a book about Red Hood, Absorbing Man, and a tiny guy who might be an evil Ant-Man has the potential to be the kind of out-there, off-beat book we need to see much more of from Marvel.
4.  A-Force by G. Willow Wilson and Jorge Molina.  Based on Ms. Marvel and her X-Men arc, Wilson is a buy-on-sight author for me.  Throw in some great, underdeveloped characters like Nico from Runaways, Medusa, and Dazzler, and this should be a must-buy title for everyone.  The Secret Wars A-Force book is great, and if this doesn't turn into one of the best books of the year I'll eat my hat.
3.  All-New All-Different Avengers by Mark Waid, art by Mahmud Asrar and Adam Kubert.  Mark Waid has never written The Avengers before.  This will be a team of b-listers (black Captain America, girl Thor, Muslim Ms.
Marvel, Spider-Man 2099), and I am confident he will write the shit out of this book.
2.  Ms Marvel by G Willow Wilson and Adrian Alphona.  As long as the pre-Secret Wars team continues on this magnificent book, I'll be buying it.
1.  Karnak by Warren Ellis and Gerardo Zaffino.  It's Warren Ellis and my favorite Inhuman.  Let's hope Ellis doesn't pull a Moon Knight and skip out after one arc.
In fact, that might even be Warren's face on the cover…
So, which books are you most interested in?