Everyone is talking about the Marvel event. It's pretty much the only thing at Marvel that matters. Since we last talked comic news, they've revealed details about Battleworld, announced a new Shang Chi book, and more. Let's run it down, shall we?
ALL DOUBTS ABOUT MARVEL'S SECRET WARS BEING WORTH MY TIME ARE NOW DISPELLED.  James Stokoe, one of my favorite artists, has produced a variant cover to Secret Wars: Battleworld that shows a ton of MODOKs fighting each other. It made me think of Nextwave, and it makes me eager to read this 4-issue companion miniseries to the main "Secret Wars" title. Apparently, the Battleworld series will feature two offbeat battles per issue. It sounds like the AvX spin-off of Avengers vs. X-Men, only it has the potential to be much better since all heroes from any time and universe can get involved. Issue #1 will be Spider-Man, Wolverine (back from the dead!), Hulk and Ghost Rider fighting Punisher, and the afore-mentioned MODOK orgy.
*I love MODOK so much, he was the next character I planned to focus on when I'm done with Thanos…But now I think I'll have to get started earlier than that! MODOK love!
A FORCE. And if the MODOK news wasn't good enough, Marvel just announced "A-Force," a comic by G. Willow "Ms. Marvel" Wilson, Marguerite "Angela: Asgard's Assassin" Bennet and artist Jorge "X-Men" Molina. It will feature She-Hulk, Dazzler, Meduca, Nico Minoru (of the Runaways), and a new hero—as well as women from all over the Marvel U. Wilson is easily the most exciting and freshest author at Marvel today, so this will be A-mazing.
MARVEL'S GONNA TRY TO MAKE A SHANG CHI COMIC AGAIN. Master of Kung Fu, a series that ran for 125 issues starting in 1973, was created by two of Marvel's best creators, Jim Starlin and Steve Englehart, who left after 22 issues and handed the book off to two of Marvel's most underrated '70s creators, Doug Moench and Paul Gulacy. Since then, Marvel has tried to revive the character in one-shots and a MAX series, as a hero for hire, and in other appearances. All have failed, even as recently as last year. But they're using Secret Wars as an attempt to bring him back again. Haden Blackman (who failed to get anyone excited with his "Elektra" comic in 2014) and Dalibor Talajic (who is good enough) will launch a 4-issue mini in May that will bring Shang-Chi to Iron Fist's adopted homeland of K'un Lun. Of course, Iron Fist will make an appearance—but so will Elektra, Typhoid Mary, Kitty Pryde, and Lockheed.
BRIAN MICHAEL BENDIS LEAVES X-MEN. Uncanny X-Men will revert to original numbering for issue #600, which will come out a few weeks before Secret Wars and will mark Bendis' departure from the title. His work on the X-books has not been his best stuff, so I'm happy to see him move on. He also signed an exclusive deal with Marvel (but most of us thought he already had one, go figure), but there's no announcement of his next, post-Secret Wars project.
DEADPOOL'S SECRET SECRET WARS. This is actually related to the original Secret Wars—not the reboot. Cullen Bunn, who has been doing solid Deadpool miniseries (much better than the ongoing series) for years now has written a miniseries about Deadpool's hidden role in that 1984 conflict.
MEANWHILE, OVER AT D.C…..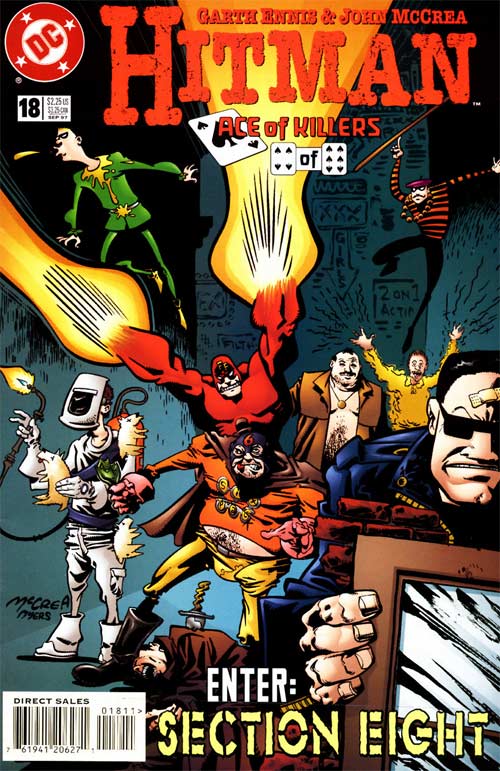 DC hasn't been as successful at driving the promotion train, but they have been letting out a few interesting announcements about what their universe will look like after it has a similar implosion this spring. The publisher promises 24 new monthly titles, all designed to be accessible to new audiences. And some of them have the potential to be good! I say that because the new 52 has been uniformly underwhelming, and most readers will agree that it is not as good as the "old" 52. Here's some of what to expect in June, starting with the titles I'm most excited about….
Section Eight by Garth Ennis and John McCrea. You had me with Ennis, DC. Adding his former "Hitman" partner John McCrea was just showing off. The book will be a spin off from that terrific DC series of the late 1990s.
Superman by Eisner-winning Gene Luen Yang, who has written some fantastic historical graphic novels. John Romita, Jr., will continue doing the art. (I know this isn't a "new" title, but wow—Gene Yang!)
Bizarro, a "comedy" book written by Heath Corson from DC's animation staff.
Justice League of America, written and illustrated by Bryan Hitch. Hitch is best known as one of the most powerful artists in the business (just check out The Ultimates), but he's an unproven writer—he's just got Real Heroes (Image Comics) on his resume.
Bat Mite by Mark Russell and Harvey Award winner Ben Caldwell.
Prez, bringing back a weird early 1970s book about a kid who became President, by the same creative team behind Bat-Mite.
Omega Men, that team from the classic Marv Wolfman/George Perez Teen Titans run.
Harley Quinn/Power Girl byAmanda Conner and Jimmy Palmiotti, the only creators who ever made Power Girl worth reading
Mystic U by Alisa Kwitney (former editor for DC's Vertigo line), on a book that sounds a lot like Gotham Academy for weirdos.
Dr. Fate by Paul Levitz
Starfire, also by Conner and Palmiotti
Constantine: The Hellblazer by Ming Doyle and Riley Rossmo
And rounding out the list: Black Canary and Cyborg.