First, the good news: Sales were up by over 4% from 2013, representing the first year of growth in three years.  And the success of superhero movies and TV shows like The Walking Dead seem to be responsible for the lift—but not wholly responsible.  Books like Saga and comics like Original Sin were at the top of the charts, and they had no movie tie-ins.
TOP MONTHLY COMIC BOOKS SALES OF 2014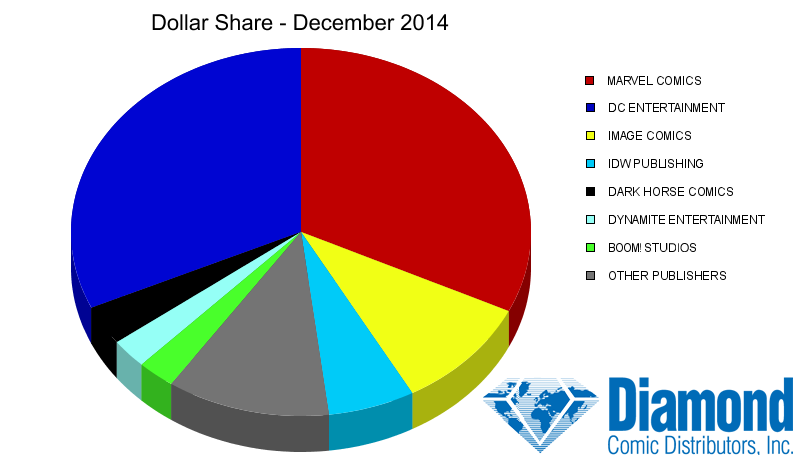 Let's start with monthly comic books, also known as "floppies" or "pamphlets."  The best writer at Marvel, at least according to the market forces, is one you tend not to hear about: Dan Slott.  His Amazing Spider-Man #1 was the #1 selling comic book not just in 2014 but of the ENTIRE DECADE (so far).  It sold almost twice as much as the next-best book, which was The Walking Dead #132 (the only non-Marvel book to crack the top 10).  And that book only sold that well because it was stuffed into Loot Crates—as was the #3 book, Rocket Raccoon #1.  ).
Overall, Marvel is crushing it.  They took 34% of the floppy market, while DC came in at 28%.  DC published fewer books (950 compared to Marvel's 1100), but it doesn't look like volume alone accounts for the difference. 
Comparatively, Image produced 700 new books but came in with a respectable 10% of the market, especially notable since its product line is smaller and very few of its books have any kind of historical presence.  They're the first non-Marvel/DC publisher to crack 10% since…Ever, I think.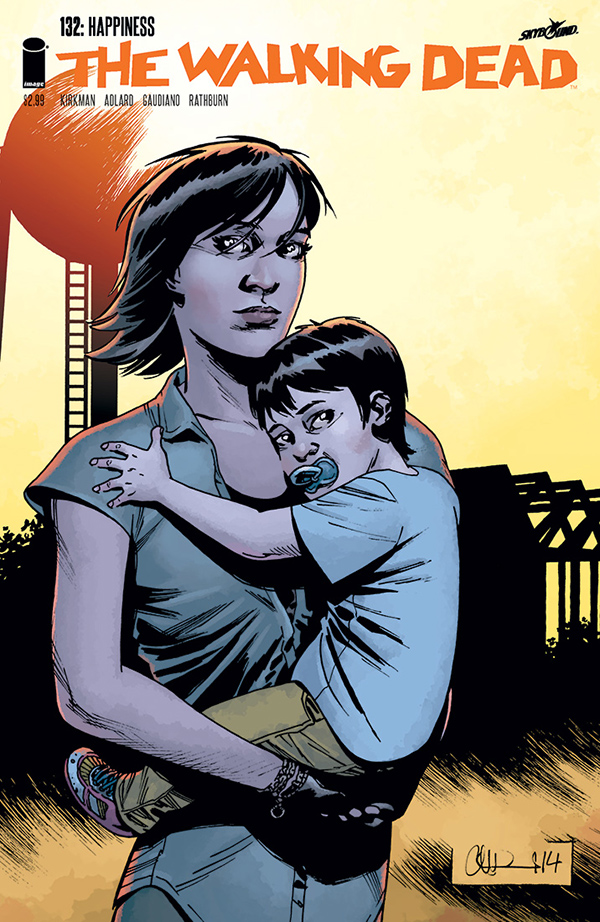 The other big indies took a much smaller percentage (IDW got 6%, Dark Horse 5%, BOOM! And Dynamic each got around 2%). 
Diamond Publishing has a detailed list of the top 500.  I'm just going to summarize it:
1.  Amazing Spidey #1 (Marvel)
2.  Walking Dead #132 (Image)
3.  Rockeet Raccoon #1 (Marvel)
4, 5, 8, 9.  Death of Wolverine mini-series (Marvel)
6.  Thor #1 (Marvel) (where Thor is a girl)
7.  Original Sin #1 (Marvel)
10. Superior Spider-Man #31 (Marvel) (the last issue of the title, which immediately preceded Amazing Spider-Man #1)
Below that, in the top 40, we see "event books" like Avengers & X-Men Axis, the issue of Captain America where Sam Wilson took over, and lots, lots, LOTS more issues of Amazing Spider-Man.  The book captured 25% of the top 40: Ten entries in all.  I don't know why Marvel doesn't talk about that book as much as Avengers—it's killing Avengers in sales.  (Oh, wait, I do.  Sony owns the Spidey movies.)  In fact, only one issue of an Avengers monthly cracked the top 40.  Nor did any of the X-Men books.  That's a
"wow" moment, when you consider how Brian Michael Bendis sold craploads of Avengers books and the X-books were big sellers in 2013, then he left Avengers and went to X-Men and neither line is doing as well.
As for DC… DC didn't make the charts until all the way down at #14, with Batman #32.  In fact, all of DC's books in the top 40 were Bat-related, and 13 of 14 had "Batman" in the main title (the outlier was Harley Quinn Future's End #1).  Superman doesn't make the charts until you get all the way down to #43, where you find Superman #32—the first Geoff Johns/John Romita, Jr. issue.
TOP GRAPHIC NOVELS OF 2014
Turning to Graphic Novels, we see a much different list.  Image owns the top 10, with only one DC book making the chart.  In fact, they own the top 40: Over half of the top 40 graphic novels sold were sold by Image.  And many of them were pricey hardcovers ($14.99).  Here's the top 10:
1.  Saga Vol. 3
2.  Saga Vol. 1
3.  Walking Dead Vol. 20
4.  Saga Vol. 2
5.  Walking Dead Vol. 1
6.  Walking Dead Vol. 21
7.  Sex Criminals Vol. 1
8.  Walking Dead Vol. 22
9.  Batman: Court of Owls Vol. 1
10.  Saga Vol. 4
Yes, the top 10 is 80% Walking Dead and Saga—but Saga did it solely on its merit as a comic book.  No TV tie-ins, no movies, and not even a creator of a big-name franchise.  Marvel's best-selling trade paperback was Guardians of the Galaxy (which placed #11), and then you don't see Marvel again until #24 (Civil War).
Other interesting Graphic Novel issues: Watchmen continues to sell well (#26), much to Alan Moore's chagrin; Rat Queens (Image) came in at #15—a very respectable debut; and as with the floppies (above), DC sold a lot of Batman and not a lot of anything else.  So the Superman movie didn't help much, proving that you still have to make good comics—tie-ins alone won't move product.  It's also good to see nice sales for "risky" books like After Life With Archie (#28), Pretty Deadly (#31), and Ms. Marvel (#40).  Bryan "Scott Pilgrim" O'Malley's book, Seconds, came in at 56, which is a high number for a "small" book like that.  I'm glad to know I contributed by buying my son a copy.