I don't usually like horror comics, but this year I found myself reading quite a few.  Many were good: Revival, Greg Rucka's Veil, and American Vampire: Second Cycle (not as good as the first cycle, but still worth a read).  Even George Romero's Empire of Dead, published by Marvel (but not taking place in any Marvel universes), was much stronger than expected—largely due to Michael Lark's art.  And Rachel Rising continues to be excellent, but since it's on my "best of the year" list I didn't think I should list it here.
So, lots of good horror comics in 2014 and five truly exceptional ones….
MY FIVE FAVORITE HORROR BOOKS OF 2014
5.  Bad Blood (Dark Horse). 
A surprisingly character-focused by Jonathan Mayberry and Tyler Crook about a (relatively incompetent) vampire hunter with cancer-filled blood, and his goth-stripper girlfriend.
4.  The Wake (Vertigo).  
This was a horror comic in the same way Alien was a horror movie.  Scott Snyder and Sean Murphy's story seemed to be a tale of dystopian sci fi futurism, but (ahem) under the surface, this book about underwater mysteries was a horror story and a mystery.  The first arc, which came out in 2013, was definitely the scarier of the two—the wrap up takes place in the light, where the first six issues took place in the depths of the sea, but since it wrapped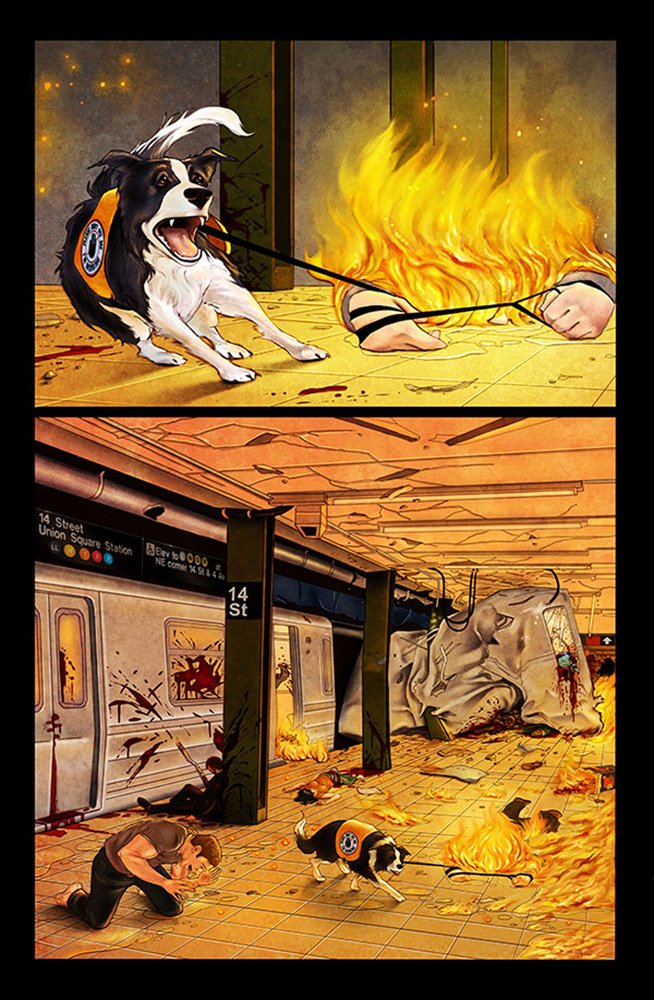 in 2014, I'm putting it on this list.  Most folks will read it in trade, anyway.
3.  Red Rover Charlie (Avatar).  
A zombie apocalypse story told from the point of view of dogs, written by Garth Ennis.  The only thing that could have made this better is if it had taken place in his "Crossed" universe.  Oh, and by the way, it's not the first animal comic that nearly made me cry (We3 was first).
2.  Afterlife With Archie (Archie Comics).  
No, this wasn't just a gimmick: It was good.  No, it was actually excellent.  The only reason it's not ranked #1 is because it wasn't really "scary," and wasn't really trying to be.
1.  Nailbiter (Image). 
This great mystery reads like a Dexter spin-off.  It's about an investigation in a town known for birthing serial killers.  In a one-off issue, a pregnant woman comes to the town because she wants her baby to born there and grow up to the next Jeffrey Dahmer, so she can be famous.  That simple story was fantastic, and captures the essence of the ongoing story as well.
Next: The movement in comics is MORE #1s!  So, we'll look at the best #1s of 2014…