Batman (and his extended family) continues to be the only DC character that sells.  Batman is also, quite frankly, one of the only DC books worth reading…
COMIC BOOK SALES IN OCTOBER 2014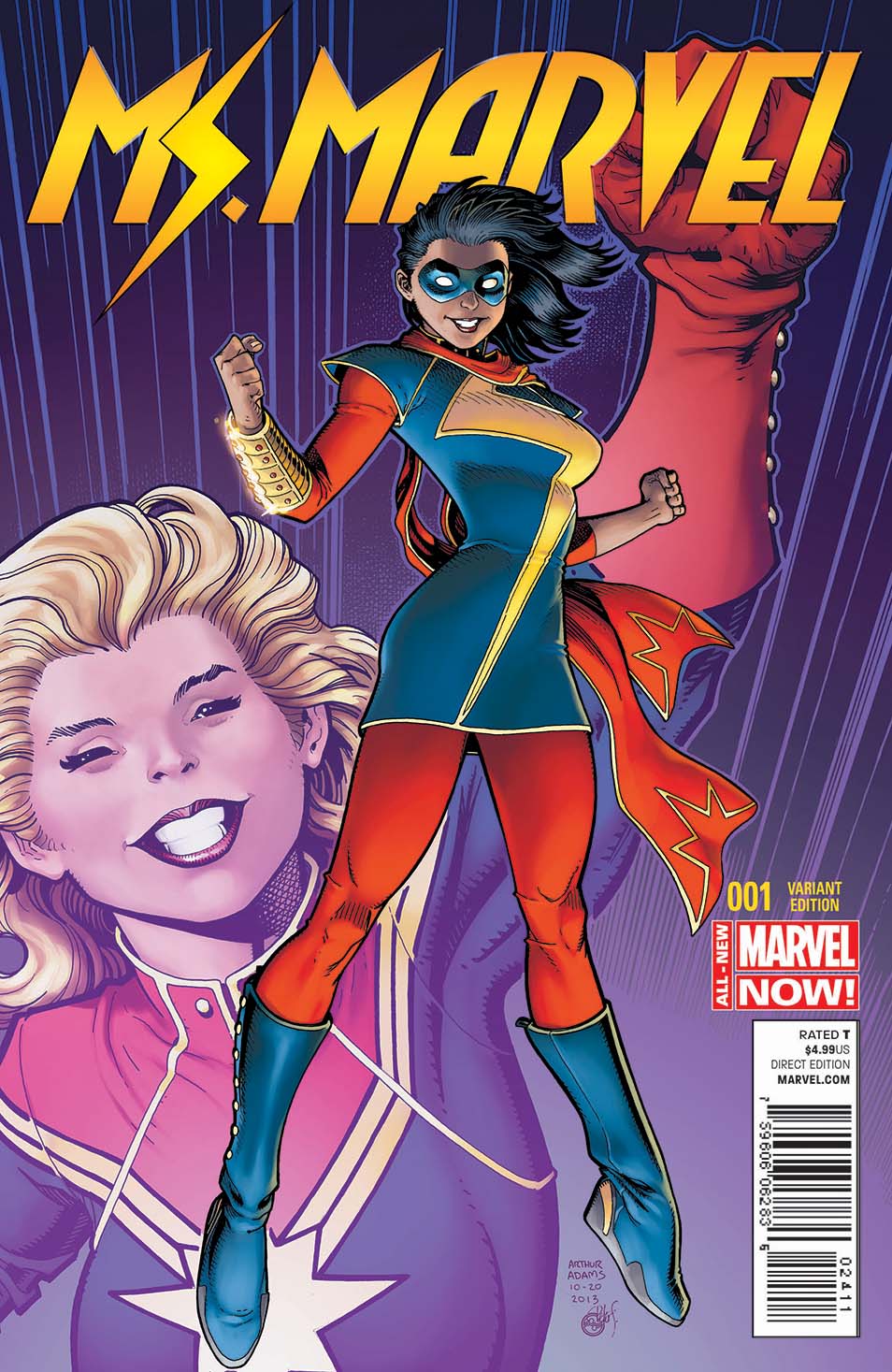 The good news for all of us comic book nerds is: Sales were up in October.  And up quite a bit.  Sales of both comics and graphic novels increased over 10% compared to October 2013.  But the real news is market share:  Image sold one out of every ten comics October. When you start pulling a 10% market share, the big two have to get worried.
Turning first to graphic novels, we see lots of books that actually deserve good sales—the first volume of Ms. Marvel, for example, which is easily one of the best comics of the year.  Add to that Scott Snyder's Batman, Southern Bastards, Warren Ellis and Declan Shalvey's Moon Knight, Amazing Spider-Man, and Hawkeye…All great comics.   It's very unusual not to see any Walking Dead volumes in the top 10 (or even top 20)—especially when the show's season premier was this month.  Ponderous.
Here's the top 10 graphic novels sold…
Ms. Marvel Volume 1
Hawkeye Vol. 3
Batman Vol. 4
East of West Vol. 3
Batman Vol. 5
Southern Bastards vol. 6
Harley Quinn Vol. 1
Amazing Spider-Man Vol. 1 (2014)
Moon Knight Vol. 1
Batman Death of the Family ($40 special edition)
On the "loose issues" front, The Walking Dead's inclusion in Loot Crate bumped it to the #1 spot—the first time a non-Marvel/DC book has been #1 since…Ever, maybe?  The same thing happened to Rocket Raccoon a few months back when it was a Loot Crate giveaway.  Wolverine's "death" did okay (the comic was a huge [HUGE!] letdown content-wise), but trailed Walking Dead by over 100k units.  And because Marvel zombies will buy any piece of steaming shit as long as it's an event, Axis #1 came in fifth.  Seriously, guys—it's terrible.  It doesn't even make sense.  But because Marvel had two events and a gender-bending Thor out in one month, DC's Batman didn't place in the top 5.  In fact, DC did pretty badly overall—but it's nice to see a Vertigo book ,Wytches, sell well.  It came in 18th and sold nearly 70k copies.
Here's the top 10:
Walking Dead #132
Death of Wolverine #4
Thor #1
Death of Wolverine #3
Avengers and X-Men Axis #1
Batman #35
Amazing Spider-Man #7
Amazing Spider-Man #7, 8
Harley Quinn Annual #1
Avengers and X-Men Axis #2
Also worth noting: Paul Pope's second Battling Boy story, Rise of Aurora West, made it to the top 20.  A very good all-ages indie superhero book—not many of those exist.
And now, your other news of recent weeks, which, unusually, has quite a few DC stories…
D.C. CONVERGENCE (THE NEXT BIG EVENT THAT WILL PROBABLY OVERLAP WITH OTHER BIG EVENTS).  While Marvel is promoting a summer 2015 event that will basically re-tell every single big event in Marvel history, anchored by Secret Wars (which most agree was the first "event book" of all time), DC is trying to get there first.  In Arpil, they'll run 40 (yes, 40!) miniseries anchored by a 9-issue weekly book titled, "Convergence." The story: Braniac is collecting bottles of cities from alternate universes and alternate DC timelines, and then everybody gets together to beat the crap out of the problem.  But what makes Convergence an event worth paying attention to is Greg Rucka. He'll be writing a two-issue miniseries about The Question—fans of Gotham PD know that Rucka created the Renee Montoya version of the character, if that history is still canon after the New 52.  There's a bunch of ministeries and tie-ins being planned, with at least one other very cool one:  Lee Weeks drawing Superman.
THRILLBENT TO SEE PRINT VIA IDW.  Thrillbent is the Digital-only comics company founded by the great Mark Waid, which has released some high-quality books by creators like James Tynion IV, Tom Scioli and, of course, Waid himself.  Now the digital releases will see print and distribution through a partnership with IDW comics.  The first book will be the "Empire" reboot by Waid and Barry Kitson, and a reprint of the original Empire series.  Other high-quality Thrillbent offerings to look forward to include Insufferable by Waid and Peter Krause; Albert the Alien; Moth City; and The Damnation of Charlie Wormwood.
GAMBIT GETS A MOVIE.  Channing Tatum will play Gambit in a solo film, with a script based on a plot by Chris Claremont. Was anyone looking for this?
SUPERGIRL.  CBS has already done a series order for its Supergirl TV show, and casting call information reveals that this will be the Linda Lee Danvers version of the character.  How confusing will this be to non-comic-book fans?  Marvel is putting out a Captain "Carol Danvers" Marvel movie about a female superhero who can fly and punch the Hell out of stuff and DC has a TV show that's…Pretty close to the same thing.
OUTCAST: ROBERT KIRKMAN'S NEXT BIG TV SHOW.  If you're not reading Outcast, the Image comic by Kirkman and Paul Azaceta, you're missing Kirkman's best writing ever.  Seriously.  He's always been a great plotter, but his dialog and scripts have felt somewhat flat.  Nearly everyone in his comics has about the same voice—they often feel interchangeable.  But in Outcast, he's crushing it.  Now he's got a TV deal for a Cinemax series to
star Paul Fugit in the lead role.  You may have heard of Kirkman's other horror TV show, on AMC.  It's called The Walking Dead.
TEEN TITANS: EARTH ONE.  So far, I've found DC's "Earth One" series of hardcover novels underwhelming.  I'm still looking forward to Grant Morrison's Wonder Woman, but I'm also wondering if it will ever come out.  In the meantime, later this month Jeff Lemire and Terry Dodson are revamping The Teen Titans for their Earth One debut.  The books are standalone stories outside of any "official" DC timelines or continuity.  They're basically a way for creators to play with corporate toys without breaking anything.  The book will focus on originals, not sidekicks, like Raven, Cyborg, Jericho, Changeling, and Starfire.  Lemire's DC work hasn't been great so far, but his indie work has been terrific—and this project, since it is separate from the established DCU—has the potential for an indie feel.  I'm excited.
SUICIDE SQUAD TO FEATURE THE JOKER.  It looks like both Harley Quinn and Joker will appear in DC's Suicide Squad film—as the company appears to have no immediate plans for a Batman solo movie.  (That's baffling.)  Casting rumors put Margot "Wolf of Wall Street" Robbie as Quinn and Jared Leto as Joker.  Because I'm assuming Jake Gyllenhall wasn't available.