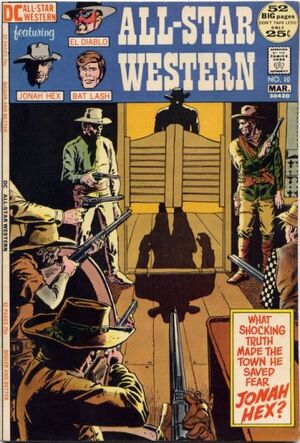 "Welcome to Paradise," one of three stories in All-Star Western #10 went on sale on this day in 1971. The book cost a quarter.  A mint copy could net you almost two grand today.  not too shabby.
Tony Zuniga designed the character's distinctive look–the scar across the mouth.  Michael Fleischer wrote it, but nobody really read Jonah Hex for the great scripting until Palmiotti and Gray started writing about him.
Modern Hex appears in a reboot of All Star Western, in which the stories attempt to tie "old West" Gotham to the Gotham of Batman, weaving in elements of Morrison's vision from Man Out Of Time (but largely disposing of anything inconvenient).  It's actually a pretty underrated book–most of DC's new 52 isn't worth reading, but Jonah Hex is consistently good.
Happy Birthday, pardner!