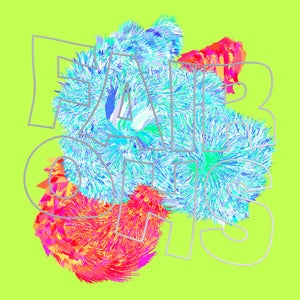 Today I'm going to do an A/B–a bandcamp band versus a band that is on a genuine indie record label. First, the Fair Ohs, on Lefse Records. It's garage rock with great music and tight, funky riffs. Second, Bandcamp band The Dead Ghosts, whose album can be streamed in full below. This, also, is garage rock.
Why am I writing about them together? Because it's almost like The Dead Ghosts' strong record is a demo for The Fair Ohs' release.
If you compare them, and The Fair Ohs offer two mpfrees, below, you will hear similarities, but you'll also hear the difference between a band that has a producer and has taken risks, and a band just starting out. It's not that either are better, it's that listening to The Fair Ohs album might actually be helpful to a crew like Dead Ghosts.
Both bands rely too much on vocal effects, but with Dead Ghosts the effects (fuzz, reverb, etc.) are so extreme as to be distracting. It feels as if the lead singer is embarrassed or afraid or for some whatever reason doesn't really want to be heard. Take it from Bob Dylan or Sting: You don't have to have a great voice to sing rock and roll. All you need is swagger and confidence. As I said, The Fair Ohs could use a bit more vocal risk-taking as well–but the problem isn't as bad on their record.
Also, The Fair Ohs musically offer greater variety, and appear to have been playing together much longer. Their album offers very interesting time changes, style changes…It's a lot like some earlier Clash records in that respect. And I do love The Clash.
In fact, The Fair Ohs album grows on me more with each listen. They're definitely a band to watch, and this is a great record.
As for Dead Ghosts, this, too, is a very solid collection of songs. The band needs some direction and needs to play together more to develop a more cohesive sound–a sense for who they are–but there's a lot of potential there.
A word on marketing: Bandcamp is a great way to get your music out there, and I love that I can post a stream of an entire album. True, the Fair Ohs have given you two free songs for you to keep (i.e., not stream), but there are several cuts from their album (Ya Mustafa and Salt Flats) that I find way more interesting than the two singles below. If I could share those with you, even as streams, I would. On the other hand, Bandcamp can tempt a band to release too much before all the songs are ready. There has to be a balance, and we're all finding our way in this relatively new method of music distribution in which reaching ears is more important than reaching eyes: It's not the record jacket or the promotional materials that drive people to spend money at shows or online, it's the music.
Bravo to both bands. Dead Ghosts, I hope you go far. Fair Ohs, I hope you stay close. =
[bandcamp width=350 height=791 album=4052797371 size=large bgcol=ffffff linkcol=0687f5]