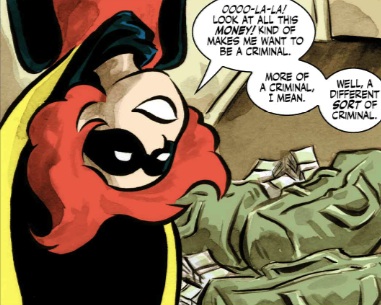 BANDETTE VOLUME 1.  Issues #1-5 of the up-to-now digital only comic from Monkeybrain will be released by Dark Horse as a trade volume.  The comic, by Paul Tobin and Colleen Coover, was nominated for five Eisner Awards.  It's damn good.
SUICIDE RISK #1 GOES INTO SECOND PRINTING.  I respect Mike Carey, but I'm not a real horror guy so I'm not super-familiar with the Hellblazer run that made him famous.  But I did enjoy the first issues of his new BOOM! Studios comic, Suicide Risk, about a cop who deals with superheroes.  The concept isn't fresh—there's shades of Marvel's Mutant Growth Hormone stories, bits of Gotham Central, and bits of many other series that explore the supers mixing with non-supers, but it's done exceptionally well.  It's worth your money.
AMAZING SPIDER-MAN.  The pain won't stop.  ASM #2 isn't even done filming, and Sony already staked out release dates for #3 and 4.  I'm going to try to be open minded about it, but the first one really, really sucked.
HULK AND THE AGENTS OF S.M.A.S.H.   It's coming August 11 on Disney XD.  Also: Avengers.  The cartoon returns as a reboot (because new character designs means new toy designs means more dollah-dollah-bills y'all), with the movie lineup plus Falcon.  They say they'll focus on these characters without bringing in a lot of guest stars.  That's too bad.  That's part of the fun of the cartoons.

LIGHTS OUT FOR GREEN LANTERN.  Rumor was that the latest creative shake-up on the title was because writer Joshua Hale Fialkov quit rather than kill John Stewart.  DC denied it—but let him quit.  However, the latest DC promos suggest it may in fact be true.
SUPERMAN/WONDER WOMAN.  New series by Charles Soule and Tony Daniel, coming soon.  Lots of super-powered sex.
COLLIDER.  A new "blue collar" Vertigo science fiction series coming in July from Simon "The Exterminators" Oliver and up-and-coming indie artist Robbie Rodriquez.  It will focus on agents from the "Federal Bureau of Physics" who investigate things like time travel and other physics-based anomalies.
JUSTICE LEAGUE MIGHT ACTUALLY…NOT SUCK.  The genius team behind the best Justice League ever,
Keith Giffen
,
JM DeMatteis
and
Kevin Maguire
, are returning for Justice League 3000 in September.  And the best part?  Giffen promises that it will exist in its own space—without reference to the main DCU, Legion of Super Heroes, etc.  Imagine, a book that stands on its own!  Yes, I will put a DC book on my pull list for the first time since Grant Morrison quit.
AGE OF ULTRON #10 PRERELEASE PIRACY.  Apparently, torrent users could get it a day ahead of its release date.  Whatever your feelings on piracy may be, this just ruins it for everyone.  If you're gonna scan it, at least have the decency to wait until it's physical release date.
BAT-HELLO KITTY AND SUPER UGLY DOLL.  New licensing deals for ugly dolls and hello kitties dressed as DC heroes.  Because they think people will buy any piece of crap with a cape sewn on to it.
LOCKE AND KEY MOVIE DEAL.  Universal Studios picked up the option on the adaptation of Joe Hill and Gabriel Rodriguez's amazing IDW comic.  Frankly, I think this would work much better as serialized TV because the story is so complex, but I could see the first arc or two being one film.  Could be great.
DC RELAUNCHES THE NEW GODS.  Brian Azzarello and Cliff Chiang's Wonder Woman is just about the only DC series still worth reading—and some months, even this comic is hanging by a thread.  But I do like the way he's handled connecting New Genesis to the Olympian pantheon.  I've never been a real fan of Jack Kirby's New Gods characters, but they work well in this comic.  They seem younger, more like yuppie iPad upstarts.  With buttloads of power.  I'm looking forward to Wonder Woman being a create comic again with this arc.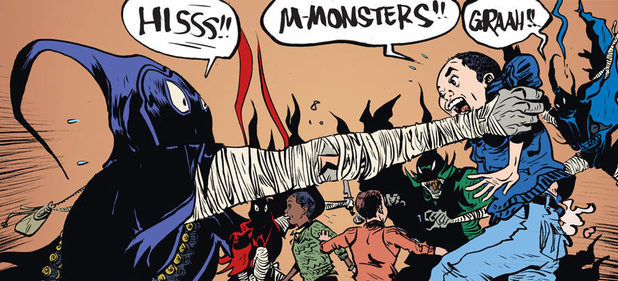 THE DEATH OF HAGGARD WEST. 
Paul Pope's latest creation is the last issue of a series titled, "The Invincible Haggard West."  The series never really existed. But the one shot will be published by
First Second Books
in July.  It will be a prequel to a graphic novel called "Battling Boy" that will come out in October.  He's like a Western version of Batman.  Pope's work is special and unique; it doesn't always work for me—I loved Batman 100, and I appreciate Heavy Liquid but felt it was a little bit of a slow read—but it's always inspired.