There's talk about Robert Downey, Jr., refusing to come back to the franchise for Avengers 2 because he wants more than $50 million. On the one hand, who needs that much money? On the other hand, it's been reported that the Avengers cast was only offered a $500k bump to do Avengers 2. For a movie that made $1.5 billion (with a "b"), that is more than a little bit insulting. I guess we'd like to think that the comics make the picture, but also know that's not true. Superman Returns, Daredevil, Elektra, Ghost Rider…All of these were miscast, badly written and badly directed films. The talent matters, and talent deserves to get paid. And frankly, Marvel Studios was built on the back of Robert Downey, Jr.
Marvel Studios is starting to ramp up for "phase three," and there's buzz about existing scripts for Blade and Ms. Marvel, as well as ideas for TV or movie deals for Iron Fist, Black Panther, Runaways and Doctor Strange. Marvel also got the rights back to Ghost Rider and Daredevil, two characters who seem tailor made for a development deal but whose projects up to now have…Sucked.
As to my personal preferences for projects, I don't think we need constant sequels to the Avengers trinity (Thor, Cap, Iron Man)—I think either one of those or an Avengers movie per year is enough "big" stuff, and then we should see something more experimental. Small films, like Ant Man (no pun intended); character-films, like Dr. Strange could be; horror, like Blade or Ghost Rider; period piece/martial arts films (Iron Fist, Power Man, Black Panther); street films like Punisher or DD. There's so much potential here for "real" movies—not just popcorn sock-em-ups, and not necessarily films that need name-actors or huge budgets.
Now, other news.
X-FACTOR IS ENDING. Or, at least, Peter David's decade-long run on the title is ending. Sniff. It's always been one of the most underrated superhero books on the market.
GANGAM STYLE-THE COMIC. X-Factor ends, Korean pop singer Psy gets his own biographical comic. When one door closes, another opens.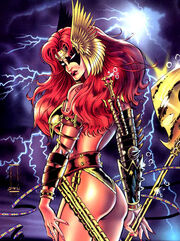 THE RETURN OF NEIL GAIMAN TO MARVEL.  Neil Gaiman will be co-writing the last issue of the Age of Ultron mini (with Brian Michael Bendis), and then the fifth issue of Guardians of the Galaxy.  The two issues will reintroduce The Eternals into the Marvel U.  Weirder, they will also bring Angela into the Marvel Universe.  Gaiman created Angela when we was working on Spawn, but owns half of the character (shared with Spawn creator Todd McFarlane).   I wonder how much Gaiman got paid for this.
WOLVERINE WILL BE LOSING HIS HEALING FACTOR. Yawn.
LEGO MARVEL SUPER HEROES. The only problem I had with the DC Lego video game was that it was…DC. Over 100 playable Marvel characters are promised for this October release on all major platforms.
DEADPOOL GAME. And speaking of video games, Deadpool's game is coming in June. Activision has done a great job with prior Marvel games, so I'm sure this will be a fun one. Sadly, though, it's single player—and I really only like playing video games with my kids. GameStop pre-orders will include two bonus Challenge Mode stages (GRT Plaza and Inside the Tower).


SILVER SURFER MEETS DAREDEVIL. In #30 of Mark Waid and Chris Samnee's absolutely perfect comic.
DOC SAVAGE. And speaking of Iron Man 3, director Shane Black has signed on to do a movie on 1940s pulp hero Doc Savage.
THE CROW. It seems certain that the lead character in the rebooted franchise will be played by Luke "Fast and Furious" Evans. That sounds about right.
JONATHAN COULTON, TAKESHI MIYAZAWA AND GREG PAK'S COMIC. If you don't know Coulton's music, you're missing out on some of the wittiest and smartest indie folk out there. And now he's teamed up with Pak (writing) and Miyazawa (art) on a kickstarter comic based on one of his songs, titled "Code Monkey Saves the World," and a sequel is promised based on his song "The Princess Who Saved Herself."