Before the break, some good news on sales: Single issues of comic sales are up over 10% from 5 years ago, 20% from 10 years ago.  Dollars raked in (vs. actual issues sold) are up a whopping 30% from 5 years ago, with $21 million dollars spent on comics just in February, the shortest month.  That's almost real money.  Dollars and copies related to trade paperbacks and graphic novels are also up, about 20% from last year. 
So, in a world where bookstores are closing and digital piracy is generally blamed for crippling the billion-dollar music business, we see little impact on the comic book market.  In fact, we see sales climbing.  What's different about comics versus music over the past 10 years?  Comics are better now than they were then.  The industry continues to use and develop top talent.  Although the big two may treat some big names rather poorly, they also treat many established talents very well—and, more importantly, top talent has many more options.  Robert Kirkman, Bryan Wood, Mark Waid, Joe Casey, and many others are making significant coin off of their creator-owned and/or indie comics.  So, did the internet kill the music business, or did the music industry kill the music business?  I've always thought the latter.
Like Jay-Z said, "I'm not a businessman, I'm a business, man…."
Hit the break for some interesting things in the world of comics and comic properties…
SPEAKING OF SALES, JUSTICE LEAGUE OF AMERICA #1 SELLS LOTS.  NOBODY IS SURPRISED.  Frankly, I would have been surprised if it had been a decent comic.  JLA #1, with its 50+ variants, sold over 300k copies—putting it in the top 10 comic books of the century (in terms of sales).  In case you're interested, #1 was Amazing Spider-Man #583 (with Obama), which blew everyone away by selling over 580k copies.  Nobody else came close.  #2 was Walking Dead #100.  #s 3-5 were the first three issues of Marvel's Civil War.  Coming in sixth was the Death of Captain America, and seventh is Uncanny Avengers Now!  In all likelihood, JLA #1 will unseat Uncanny—which sold 305k, but probably won't reach the 317k units sold of Captain America #25.
IRON MAN QUIZ.  It's here.  It's fun.  It's actually kinda hard.  I actually got a few wrong—only got a 73%.  I may not be the biggest Iron Man (I'm definitely not), but I know a lot more than the average bear.
BEN 10 COMICS.  I don't spend a lot of time watching cartoons, but what I've seen of Cartoon Network's Ben 10 I thought was pretty good.  Looks like the dude got a book deal.  Boom! Studios will be launching an all-ages oversized book ($7.99), coming soon.
ASTRO CITY RETURNS. 

Kurt Busiek and Brent Anderson's creator-owned, Eisner/Harvey Award winning series is returning in June.  I still have volume one and haven't been able to get into it—I've tried twice, because I really want to like it.  Looks like I'll need to try again….
MARVEL INFINITE.  Marvel has announced that its digital comics line will now be a weekly thing—four regular series, 13 issues each, released on alternating weeks throughout the year.  And for the first tale, Jason Aaron is returning to Wolverine and Wolverine is returning to Japan.  Starting July 9.
THE WALKING DEAD T.V. SHOW.  How the hell do they consistently make a better episode, week in and week out?  This is the best season yet in this most rare of TV shows: One that gets better with age.  The only thing I can compare it to is the old TV show The Shield, which is probably my all-time favorite TV show ever.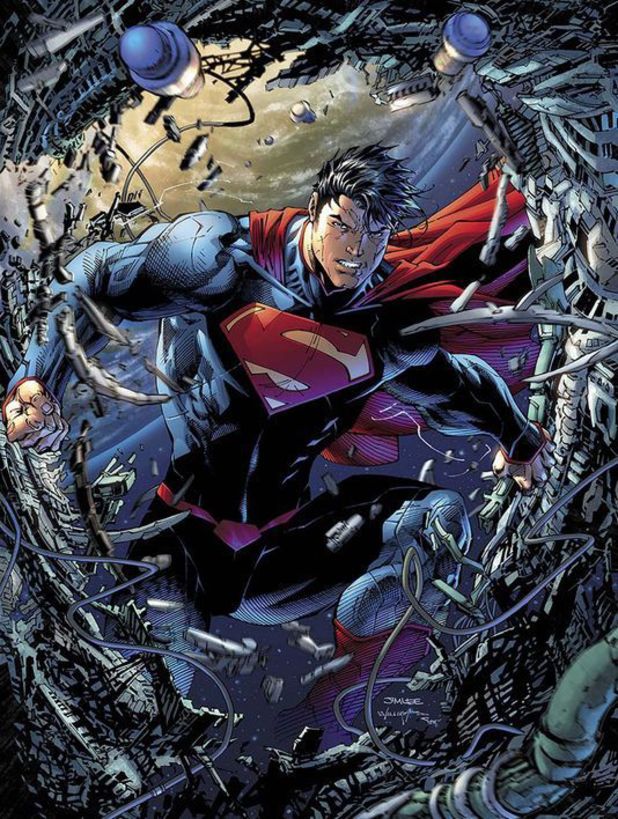 SUPERMAN UNCHAINED #1.  Scott "I'm starting to be a little overrated" Snyder and Jim "I've been overrated for a while" Lee are teaming up for Superman Unchained #1, and the comic will sell for $4.99.  One of the pages will be an oversized poster that is one of the pages in the actual story.  In other words, it's a wall-sized panel from the comic.  Snyder's early Batman work—particularly on Detective Comics—was some of the best I've read in years, but his new 52 issues started strong but became slow moving and, eventually, I lost interest.  The same exact thing happened with his new 52 Swamp Thing, although that book also suffered because they kept switching artists.  As for Jim Lee, I've always thought of him as a better character-designer than a storyboarder/telling artist.  So I'm not all that eager for this comic.
MARVEL CRASHES COMIXOLOGY.  The big Marvel #1s Giveaway, in which over 700 #1 issues were offered free to Comixology users, crashed the system.  I didn't get a single damn issue.  But the concept, giving away #1s, is a very sound one.  Collectors will still buy #1 issues—they always sell well—so you're not really hurting the retailers, and it might get people interested enough to start reading a new book or two.  This is the kind of thing the digital market is perfect for: Many (most?) internet users want something for nothing, and this gives them that, but many (most?) would rather pay something for something (i.e., a hardcopy) than pay something for nothing (i.e., a digital-only document that can be read only on one proprietary platform, like Comixology).
MARVEL IS ENDING SOME OF ITS BEST SERIES. 

Specifically,

Garth Ennis and Goran Parlov's

Fury Max

—

which I didn't expect to like but, it turns out, is Ennis' second-best Marvel work (his best is PunisherMAX, obviously) is ending in issue #13.  And

X-Factor

is ending with #258.  Peter David has been the writer for 8 years—which may be the longest run in comic book history.  I don't know if this has anything to do with his health.  It looks like there will be some kind of reboot: The final X-Factor issue is promoted as being the second of six parts, so either it will end in another X-book or there will be a new X-Factor with, I assume, a new writer.  I really don't care about the X-Factor characters—I only read this for the writing.  Very, very sad to see it end.
INDESTRUCTIBLE HULK MEETS DAREDEVIL.  Both of Mark Waid's current Marvel projects will tie together.  Remember what happened last time Hulk and DD went at it?  It was pure Frank Miller glory.
SPIDER-MAN BROADWAY 2?  Marvel has signed a deal with Feld Entertainment, who produce Barnum & Bailey Circus and Disney on Ice, for a live arena show about Marvel heroes.  Oh, God, please.  No.