Crime novelist Jason Starr and artist Connor Willumsen will launch a Marvel MAX take on what is arguably Marvel's "MAXiest" character in October.  To me, most MAX books have been missed opportunities.  Punisher managed to get lightning to strike, between Garth Ennis' 60-issue run and the tighter, more Marvel-y one by Jason Aaron and Steve Dillon, but nearly all other MAX books were terrible, A to Z: From Apache Skies through Blade and Cage, all the way down to Zombie….
Hit the break for a list of the MAX series worth digging for in trade, and news about the upcoming Wolverine series.
The concept behind Marvel MAX was to reimagine classic characters in a grittier, more realistic setting.  But most MAX books emphasize the grit without the reinvention.  There's reason to hope for the best, thought, with Jason Starr's new Wolverine: MAX title, as the writer promises to tweak the existing Wolverine legends without sacrificing those aspects of the character that have made him iconic, like his claws, his ability to heal, his relationship with Sabertooth, and his foggy past/memory.  But at the same time, he promises a new origin and a noir-y feel.  And lots of gruesome slashings.
In the meantime, what MAX series have succeeded and failed the most?  Here's my picks:
THE TOP AND BOTTOM 5 MARVEL MAX TITLES
TOP 5 MAX COMICS
5.  Supreme Power #1-12. 
J. Michael Stracyzinski is such an annoying author.  He creates intricate, detailed storylines and then suddenly leaves in the middle.  He does it over and over again.  And yet I keep reading JMS' work because when he's good, he's one of the best.  Long before the new 52, JMS took Marvel's Squadron Supreme—originally created as a Marvel version of the Justice League, just so The Avengers could meet and beat DC's finest—and turned it into a plausible, powerful reimagination of the DCU.
4.  Strange Tales MAX. 
Not every story in this 2009 three-issue anthology worked, but it was wonderful to see so many indie creators have their way with Marvel creations.  Some of the names included were Stan "Usagi" Sakai, Harvey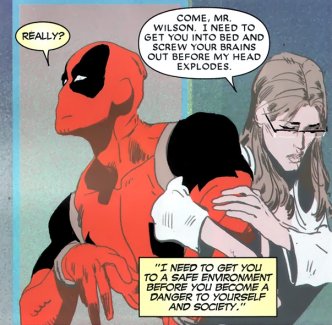 Pekar, Peter Bagge, Jason, and many others.
3.  Deadpool MAX.
  If you haven't read this, shame on you.  It's the funniest, most shocking book Marvel has ever put out.  Ever.  And it did a great job at reimagining the Deadpool's history, including all of the major characters from the definitive Joe Kelly mainstream run (Blind Al and Hydra Bob included, of course), and just generally creating supremely maniacal chaos.
2.  Alias.
  Brian Michael Bendis' minor retcon of Avengers history to create Jessica Jones, future wife of Luke Cage.  This was a tremendously moving book, particularly when it wrestled with Jessica's troubled past, her alcoholism, and her sex life.  An example of how Marvel comics can actually read like indies, when the right creator is attached.
1.  PunisherMAX #1-60, by Garth Ennis and various artists. 
With incredible photorealistic covers by Tim Bradstreet, Ennis emphasized realism and grit, but he also completely reimagined Punisher.  Previously, the character had been basically a two dimensional Batman cipher, but in Ennis' hands the character made sense, and had a backstory even more horrifying than the death of his family at the hands of gangsters.  If you read only one Punisher comic, or only one MAX title, this is the one to get.  It truly exemplifies how powerful comic books can be as a medium.  For more,
check out my in depth review of the entire run here
.
And if you liked those five, you might also consider: The Hood (Brian K. Vaughan's character was so intriguing that it ended up crossing over from MAX to mainstream—a feat never accomplished before or after); Rawhide Kid: Slap Leather (a gay western hero—and a pretty good comic); and The Destroyer (Robert Kirkman and Cory Walker took a golden age hero created by Stan Lee and told his story as an old man—an inventive way to keep in the traditional Marvel history while reimagining the character in the MAXverse).
THE WORST MARVEL MAX COMICS
Hit the break…..