Info on Marvel Now! has been coming in dribs and drabs for about a month.  We know it's not an "event."  It's not a "reboot."  It's not a "relaunch," except that it is.
Nearly all major Marvel titles will restart their numbering back to #1, and current creative teams will be shifted around, but it's mostly the same Marvel writers and artists.  So, if you didn't like Marvel before, you won't like it now.  But if you thought maybe some of their talent was good but the ideas were stale (for example, if Bendis has run out of things to say about The Avengers), then Marvel Now! might just be the thing you're looking for.
Hit the break for a summary and play-by-play of what to expect from the new/not new lineup.
LEADING THE CHARGE: MARVEL NOW! POINT ONE.  A one-shot "intro" to the MN!U, coming in October, and featuring some or all of the Guardians of the Galaxy (Nova and Star-Lord are on the cover); black eyepatch Nick Fury Jr. (as opposed to Ultimate Nick Fury who is black and has an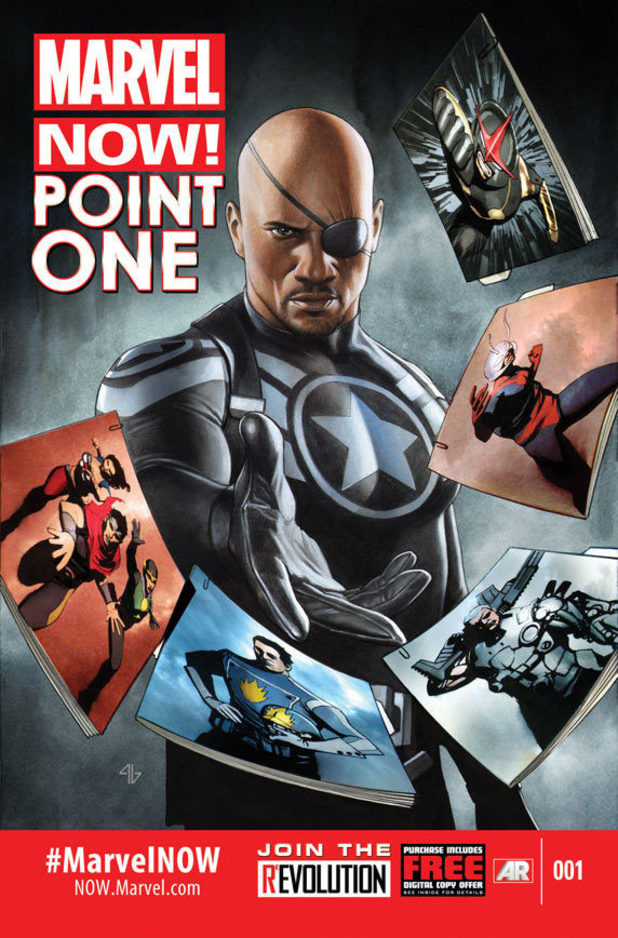 eyepatch but is not in the main 616 Marvel Universe); the Young Avengers (or at least Wiccan) on a team with Kid Loki; Cable, and Ant Man.
WHAT IS OLD IS NEW AGAIN...Creative teams lifted wholesale from current books and dropped into new ones, and/or creators who haven't worked together but who are well-established in Marvel will be teaming up…
Uncanny Avengers, the new post-AvX team of mutants and non-mutant supers, will arrive first, in October, by writer Rick Remender and artist John Cassaday.
Surprisingly, Rick Remender and John Romita, Jr., will take on Captain America.  This is a surprise because it looked like Cullen Bunn was being groomed to take over the Cap Universe after Ed Brubaker leaves to pursue creator-owned works.  Romita's drawn Cap plenty of times in the past, but if he brings his "A" game, this could be fantastic.  I only hope Remender can change his style a little—he's a very introspective writer, but Cap is probably the least introspective major Marvel hero.  (Except for, maybe, the Hulk when he's in rage mode.)  Brubaker is supposed to stay on the "Winter Soldier" title for the time being, which is not getting a relaunch.
Matt Fraction and Mark Bagley are aiming to take over Fantastic Four in November.  Both have good history with Marvel relaunches (Fraction with Iron Fist and the recent Hawkeye series, Bagley with Ultimate Spider-Man).  In bigger and more interesting news, Fraction and Mike "X-Statix" Allred will take over the "FF" spin-off book.  My hope is that they'll bring some focus to "FF;" the need for two Fantastic Four books hasn't been clear—other than the fact that former writer Jonathan Hickman is prolific.  If it's truly going to be about the Richards kids, Power Pack members, etc., it could be a very interesting book—particularly with Allred's unique artistic skills.  But if it's going to fill in blanks for the big events in the main title, it seems like overkill.
Mark Waid and Leinil Yu will take over the Bruce Banner Hulk book, which is the relaunch I am most looking forward to reading.
Jason Aaron and Esad Ribic will take over Thor.  We've been promised some "young Thor" stories, which indicates that MN! may be similar to DC's New 52 insofar as its stories may take place over various time periods in the lives of Marvel characters and teams.
Kieron Gillen and Greg Land will move to Invincible Iron Man.
All New X-Men is coming in November from Brian Michael Bendis and Stuart Immonen.
The regular Avengers book will be by Jonathan Hickman and Jerome Opena.  It'll be yet another #1.  I wish they'd go back to the original numbering.  I'm sure they're way past #700 by now.
New Avengers will reboot in January 2013,with Hickman and Steve Epting.  I like Epting's work, but I don't see it as "big team book" art.  This should be interesting.
A LITTLE NEW BLOOD NEVER HURT ANYONE…New (or relatively new) to Marvel are: Simon "2000AD" Spurrier and Tan Eng Huat, taking over X-Men: Legacy.
IF IT AIN'T BROKE…True, The Avengers books always sold well, so it's strange for Marvel—the consummate corporate creative company—to take a risk.  But they're sticking with the winners on at least a few Marvel titles that are consistently well-reviewed and generally sell well: The Amazing Spider-Man, Wolverine and the X-Men, and Daredevil.
HULK DOESN'T GET REBOOTED, IT GETS A NEW STAR…Jeff Parker's Red Hulk book will become a book about Red She Hulk.
AND OF COURSE, THE WILD CARD IS DEADPOOL.  In the most interesting announcement, Deadpool—a book that has been stale for about two years now—will be relaunched with writing by Brian Posehn and Eisner-nominated Gerry Duggan, and art by one of my "top ten" favorite artists working today, Tony Moore.  Posehn is that huge ugly redhead from Sarah Silverman's TV show and Patton Oswald's "Comedians of Comedy" tour.  He and Duggan worked together on a profane Image comic once called The Last Christmas.  Tony Moore's best work was on the Vertigo title, "Exterminators," but he's recently worked on Venom (covers mostly) with Rick Remender.