74. THE IMPOSSIBLE MAN
Impossible Man, or Impy to his friends, is an alien from the planet Popup who has the ability to transform into just about anything and annoy just about everyone.  He's clearly a comedic device without any real significance, right?
Right.
But like mood lighting and Kenny G, there's a time and a place for him and, when it's all right, it's all right.  In fact, in many instances he was the only reason to buy an issue of The Fantastic Four.
Not only did he bring the fun into the book—he actually had fun using his powers. Not enough comic characters do that.
Recommended reading:
The Impossible Man (a new trade paperback collection that is AWEsome!!)
73. SWAMP THING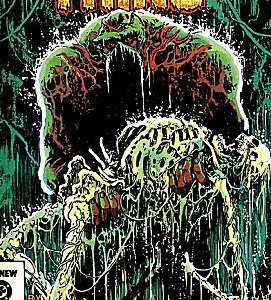 Notwithstanding that Alan Moore's Saga of the Swamp Thing is one of the greatest comics of all time, I was on the fence whether to include Alec Holland on this list.  For one thing, including him means dropping Man Thing because, although the characters are fairly distinct, they're also kind of not.
But I relented because this force of nature brings a perspective not seen in very many other books, if any.  He's not a hero who fights for justice, he's just a guy who wants to live his life but realizes that his awesome power brings with it (wait for it…) awesome responsibility.
But really he's on here because he has so much of one commodity that you don't feel much of in comic books: Love.  Swamp Thing's story is essentially a love story—a sad, tragic love story.
Recommended reading:
The Swamp Thing by Alan Moore