TOP 10 REASONS FOR COMIC BOOK FANS TO OWN T.V.s AND GO TO THE MOVIES 2010
10. Smallville. The show was on fumes last season, but it's picked up. It's getting annoying, though, waiting for Darkseid. And they better bring it. Because if they don't, it'll be the biggest cop out since Rise of the Silver Surfer, in which you never got see Galactus. I'm still pissed about that.
9. D.C. Showcase: Superman/Shazam: The Return of Black Adam. Toss in the other two bonus features–12 minutes shorts about The Spectre and Green Arrow, and this is a keeper. Also check out this year's Superman/Batman DVD, Apocalypse. Pretty damn good.
8. Iron Man 2. Nowhere near as good as the first, but still pretty damn good.
7. Young Justice. All we got was an hour teaser of the series to come, but it was almost as good as the best DC cartoon ever (Teen Titans Go!). The nods to Super Friends were much appreciated by the geeks in my house.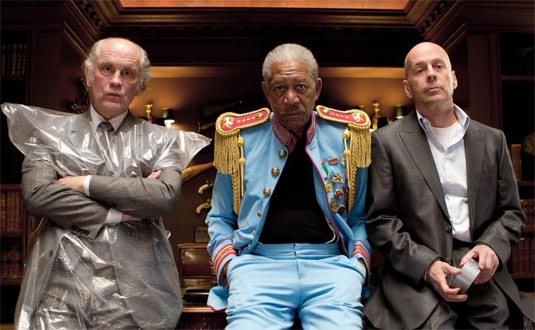 6. RED. Not as vicious as the comic, but lots of fun.
5. Kick Ass. Kicked ass.
4. The Regular Show, Mad TV, and Robotomy. Cartoon Network's new "prime time" lineup is impressive as hell–Mad is 15-minutes that recall everything every pubescent boy ever loved about the magazine itself: Irreverent, juvenile, and flatulent. Just like me. The Regular Show, with it's slacker stupidity and bizarre, cell-phone time travel tribute to Bill and Ted's, is another favorite. And Robotomy is a random, bizarre mess of fun.
3. Avengers: Earth's Mightiest Heroes. Finally! A Marvel cartoon that's better than X-Men!
2. Scott Pilgrim vs. The World. Pure genius. The most fun I've had in the movies in years.
1. AMC's The Walking Dead. Best new show on TV, and one of the greatest ever.
Honorable mentions: The Losers; Planet Hulk (DVD Animated Release).