To sum up:
For the best comics of 2000-2001, and full bios of all contributors, go here!
For 2002-2003, click here!
For 2004, check this out!
Looking for the best of 2005? Click here!
And for 2006, this is your spot.
2007 was a great year, and your shopping list is here, along with some 2008s.
Which bring us to today . . .
THE BEST COMICS OF THE DECADE: Part Seven: The books that help us ring in the next decade.
Deadpool
Daniel Way and Paco Medina.
2008-Present
This is the most ridiculous book in the Marvel U. It's silly, X-rated, and unapologetically violent. Accept no substitutes: Most other DP appearances don't nearly measure up.
-Ekko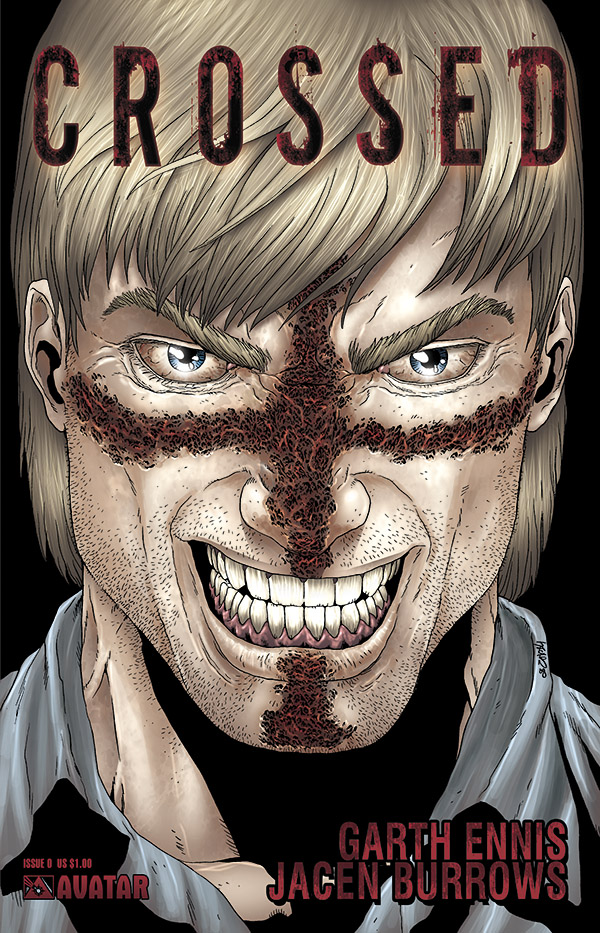 Crossed
Garth Ennis and Jacen Burrows
2008-Present
I am sick and twisted but Garth Ennis and Jacen Burrows are horrible human beings. More intense than the zombie apocalypse of The Walking Dead, because the things chasing you are mean and twisted and prone to horrible acts of… well, horribleness. I know the series isn't done yet but I can't help but love it if for no other reason than the end of issue #5. I'm not going to spoil anything but it just made me realize Ennis was doing something more than just shock horror… well, there's still a lot of gross stuff, but it made this horror story more human and it raised an interesting question. Might things might be better without all us people ruining things?
-Mike Raicht, author of The Stuff of Legend
Amazing Spider-Man: Brand New Day
Authors include: Dan Slott, Marc Guggenheim, others. Artists include Steve McNiven, Salvador Larroca, John Romita, Jr., Phil Jimenez, others.
2008-Present
Technically, "Brand New Day" is over–it gave way to "One More Day" and then to whatever they're calling it now. The banner no longer appears on the Amazing Spider-Man book. But we're still learning about what happened when Spidey made a deal with Mephisto to erase his past and start over. The best part of this series is that it eliminated three or four monthly titles and tightened the creative control over Spider-Man, gave a starting point for new readers or those (like me) who had stopped reading because it just got too damn confusing, and created a self-contained book about the most important character in the Marvel Universe. The book is still great, but I'm getting worried: They've announced a second monthly Spiderbook. Marvel hasn't learned that too much of anyone is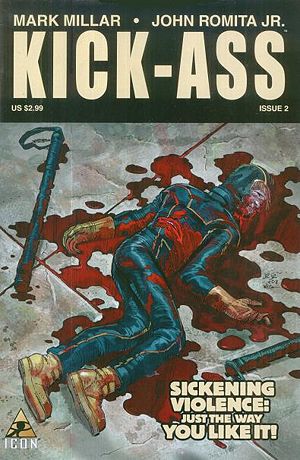 exhausting. (Although it seems like they have no shortage of folks who will buy anything with Wolverine in it.)
-Ekko
Kick-Ass
Mark Millar and John Romita, Jr.
2008-Present
This book is just a bloody roller coaster ride. Its an over-adrenalized teen fantasy that is constantly slapped in the face with reality. Punches are not pulled (the torture scene in Issue 7? Ouch!). Our hero makes a mess more often than he saves the day. And each time he opens his mouth around the bad guys, I cringe – its very evident that his bark is much worse than his bite.
And yet, despite all his failings, our protagonist is still one of the more enjoyable anti-heroes around. I guess it's hard to expect otherwise from a creative team as powerful as Mark Millar and John Romata, Jr.
If the upcoming Kick-Ass motion picture lives up to the comic books, the mainstream is going to have its mind blown wide open.
– Miguel of TheHeroBlog.com
Fin Fang Four #1
Scott Gray & Roger Langridge
2009
Maybe it isn't fair to call this a 2009 release, but that's when these previously on-line stories premiered on pulp. Four stories of Fin Fang Foom, a genius monster surrounded by idiots and facing guys like Doc Samson and Wong. It's a collection of B-characters in a collection that really seems more indie than Marvel. Probably the inspiration for the recent "Strange Tales" collection of Marvel stories by independent writers and artists. (Strange Tales is really good, too, but it's just not THE BEST of the Decade.)
-Mysterious Comic Book Guy
Whatever Happened to the Caped Crusader?
Neil Gaiman & Andy Kubert
Teaming up with Andy Kubert again, as he did on Marvel 1602 (see: The Best of 2003), Gaiman tells a mysterious story of the Death of the Bat.  A lot of folks hated these two issues, but I thought they were brilliant.  A buncha  baddies go to Batman's wake and reminisce about their favorite Bat-memories . . . And how they would have killed him.
-Mysterious Comic Book Guy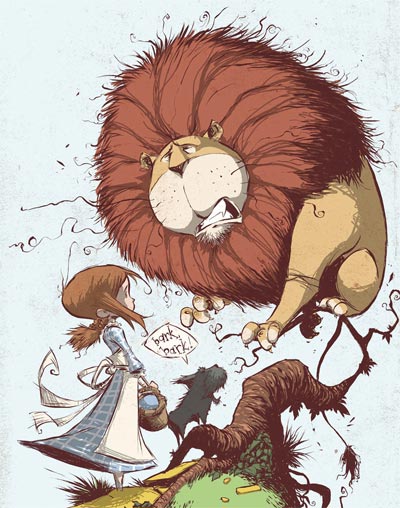 The Wonderful Wizard of Oz
Eric Shanower and Skottie Young
2008-09
Eric Shanower has been adapting Frank L. Baum's novels—and writing his own Oz adventures—for years, in indie books. In 2008, Marvel finally wised up to Shanower's tremendous talent in directing adapatations of the original material, and paired him up with the brilliant Skottie Young to create the most unusual, charming miniseries of the past year. Young's illustrations are nothing short of incredible—each panel is a work of art, like a painting. And the writing is completely faithful to the novel—not the movie. The team is coming back in 2010 to take on the second Oz book. Watch for it.
-Ekko
And that's it! Most (all?) of these are out in trade paperback, so you've got a sweet little Christmas list–for yourself or others. Spread the word: Comics aren't just for kids anymore!