Posts made in November 6th, 2009
THE BEST COMICS OF THE DECADE: Part Two: 2002-2003
True Story Swear To God
Tom Beland
2002-Present.
Amazingly, an indie autobiographical comic that's not about an urban slacker. Beland tells a touching love story about how he met and married Lily Garcia from Puerto Rico, and does it without ever getting mushy or sappy… a romance comic even the most macho guy would be okay with reading. I think Beland is one of the best old-school cartoonists to emerge in the last decade and the fact that he writes, draws, inks and letters his book all by himself gives his work an organic feel that nothing else on the stands can match.
-Greg of Fridays With Hatcher
Y: The Last Man
Brian K. Vaughan and Pia Guerra
2002-08
And finally, a book that doesn't revolve around super powers! Unless you count "being the only human male on earth to survive a deadly pandemic" as a super power.
Our hero, Yorick, finds himself to be the last man standing, quite literally, after all the other males on Earth mysteriously die. "One man to billions of women" may sound like a dream ratio to some, but it's more of a nightmare to Yorick, whose goal of reconnecting with his long-distance lover is constantly thwarted by…having to save humanity.
This series is a definite page-turner, so if you like the first collected volume, you may as well pick up the remaining nine, because it never lets up.
Miguel of TheHeroBlog.com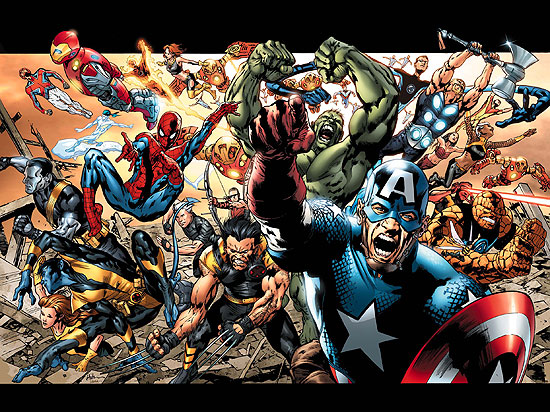 The Ultimates
Mark Millar/Bryan Hitch.
2002
The entire Millar run (Ultimates 1 and 2) has been bound in a phonebook-sized hardcover that sells for about a hundy. It's worth every penny. The art, from pencils to colors, is brilliant. It feels like the book is constantly in motion. And the story is the best Marvel movie never made, treating the heroes like they're real, from "crazy Thor" to "racist Cap," the book never lags, never slows down, and never gets old. Most people like U2 better than U1, and I admit that U2 had more of a "story" to it, but U1 is where the seeds are planted: It's more about getting to know and understand these characters, who don't act anything like what we're used to. Cap is a bully. The Wasp is a great leader, but terribly insecure. Iron Man is, well, basically an asshole. And Nick Fury is a nanny. The Ultimates deconstructed Marvel myths in a way that Ultimate Spider-Man, which was a great book, too, never even tried to do.
-Ekko
Global Frequency
Warren Ellis (writer), with various artists
2002-04
I wish this had run more than twelve issues. but they are twelve AMAZING issues. Warren Ellis' terrific science-fiction spin on the old "Mission: Impossible" premise was probably my favorite thing he did in the last decade, and when you're talking Warren Ellis that's a very tough competition. Ellis is one of the few writers in comics that takes care to get the science more or less right in his science fiction and it doesn't slow him down at all — he's got one of the wildest conceptual minds in comics.
– Greg of Fridays With Hatcher
The Walking Dead
2003-Present
I am obsessed with Zombies. So much so I've worked on two separate books dealing with the subject. (Zombie from the Marvel MAX line and Deadworld: Frozen Over from Desperado Publishing) Every single time this book comes out I am compelled to put it at the top of my stack and find out what's happening with Rick and the gang… and to be honest I keep waiting for Rick to buy it. And that's why I keep coming back to it as my favorite. I never know what's going down next.
-Mike Raicht, author of The Stuff of Legend
Note from Ekko: Frank ("The Mist") Darabont is rumored to be developing a "The Walking Dead" movie. So, read it now, so you can say you dug it before it was cool
Marvel 1602
Neil Gaiman and Andy Kubert
2003
Ultimates is great, yeah, because it's cool to see what might have happened if the coming of the capes had been more recent, in a modern world.  In 2003, Neil Gaiman, with the help of the son of the greatest comic book arist of the prior era, answered the question what if superheroes had come to be during the formation of the The New World.  Gaiman is one of my favorite writers of all time, and seeing him take on The Marvel Universe is just plain brilliant.
-Mysterioius Comic Book Guy.
Next: The Great Year of 2004!
More
When I'm talking about Bend Sinister today, I'm not talking about the classic EP by The Fall. I'm talking about the band that just released, "Tales of Lovers Stories of Brothers, Tales of Lovers," a wonderfully complicated, fresh and vital prog-rock-and-roll. Take the Queen-like loud-crash-into-light-piano-and-back-again extended intro of "The News," which begins with a lyrical tribute to the Beatles, mix in "Brothers of Humankind," which features whirling keyboard and sax riffs that combine to form heavy metal Springsteen, and then jump to lighters-up anthem, "Jimmy Brown," and you've got a recipe for stadium rock like you haven't heard since The Darkness believed in a thing called love. Think of the band as an experimental version of Gaslight Anthem–or a straight version of Elton John. Or an edgy Manfred Mann. Or something you need to hear but haven't in a long time.
I've read that this band was dropped by their first label, and I can't imagine why. If this kind of big music can't succeed in the modern world, then rock really is dead. If I gave out stars, this record would get five for five. It gets my highest recommendation.
BONUS RANDOM COVERS!
Still Crazy After All These Years (paul simon)-Deer Tick (alt link)
More