If Kurious's new album, "II," sounds old-school, he can be forgiven.  The Harlem Latino has been around since the 1990s . . . When he released his first album.  He's been affiliated with the likes of MF DOOM, The Beatnuts, Pete Nice, KMD, House of Pain, 3d Bass, Del The Funky Homosapien, MF Grimm . . . It might be easier to ask if there's a '90s underground rap legend who he didn't mix with.  And yet it's taken a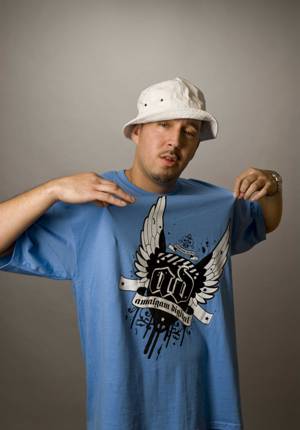 decade-and-a-half to put out a sophomore album (the follow up to 1994's "A Constipated Monkey").  Does he still have skills?  Yes.
In fact, he hasn't changed much.  Track one, "Back with Vic," is basically a turntable showcase for producer Vic Padilla, supported by Kurious' verses.  It's also the most interesting track, beat-wise.  These are old-school beats, and old-school rhymes that rely more on vocabulary than profanity, more on retrospection and nostalgia than bling or banging.  Of course, the must-have track here is "Benneton," featuring MF DOOM and MC Serch.  To my knowledge, those two haven't played together in a very, very long time.  And they reminisce, with DOOM gratefully thanking Serch for that MC's role in his career.  Couple this with the chipmunk Journey wail, and you have a gold star single, one of the best of the year.
"Rain On Me" samples The Who's, "Reign O'er Me" (these samples can't be legal), and it's a solid track as well.  Another one of the standouts, particularly since it's a love song—a form of rap usually reserved to LL Cool J or silly crap.  Kuri sends shout outs to loved ones and victims of molestation—that's something you don't hear often in hip hop.  As he says, "I ain't sugar coating shit."  He's also got a song on here about family ("Mysterious"), and on "Prosperous" he replaces the idea of monetary riches with those of fatherhood, advising that rap should "make kids more intelligent," and confessing that he takes the trash out every week and apologizes for the stupid things he's done in the past.  Kurious Jorge is back, and his album is a great reminder that hip hop can have meaning, and can be optimistic at that.
Benetton Kurious with MC Serch, M.F. DOOM and Kadi Amin
BONUS: KLASSIC KURIOUS
? (Questionmark) MF DOOM and Kurious from Operation Doomsday (one of the best indie rap albums of all time)