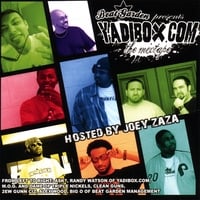 A rep from Beat Garden Entertainment has introduced me to the Yadibox.com mixtape. Yadibox is a collective designed solely at helping unsigned artists get ears to listen. They recently sent me their 2007 mixtape, The Beat Garden Presents, and it's fantastic.
Unlike most label gangbangs, on this one every artist has skills, and all of the beats (all original music) are hot. There's not a single toss off, and each cut is fully formed–no sudden drops, no obnoxious DJ shouts over the music. This is more of a sampler than a mixtape.
It's hard to pick which songs to write up, because all are good, but here's some notes on a few choice cuts: The Grind, by Fairmount Park Commission, featuring 2ew Gunnz Ciz, an ode to street life and the rap game ("We forced to eat, with no rationale to teach"), is an intelligent head bobber as good as anything from Rhymefest. Sling Blade Flow, by DAME and Nico the Beast featuring Tourguide Chuck is a witty rant against suburban rap fans–not a topic I'd generally encourage, as it does nothing but accentuate the sort of anti-white/pro-my-hood-at-the-expense-of-yours thinking that is destroying hip hop, but I have to admit this one is well done. Born to Roll freestyle, by DAME, is another example of fantastic beats and flawless flow. And every track with Clean Guns is hot.
I'm loving this.
You can sample it and buy it, for just six bucks, at CD Baby.
Put It On The Ritz (Triple Nickels & Zilla Rocca)
Sleep in the 80s
Crooklyn Dodgers Freestyle-M.O.G. and Clean Guns